This quick, easy and incredibly delicious homemade hemp milk recipe is officially my latest addiction.  This "milk" is packed with energizing omega-3's, hemp protein and antioxidants and is a great superfood, power-snack to get you through your day.  The addition of digestive spices increases the absorption of these vital nutrients while enhancing the flavor.
This hemp milk would be known as Jivaniya or "life-giving" in Ayurveda, as it give the body strength and vitality.  It can be utilized in any rejuvenation therapy, during times of Vata imbalance or during times of depletion such as post-cleanse or post-illness.  This nourishing, anti-aging recipe is also great for increasing the essential Ojas in the system, enhancing one's immunity, vitality and energy.  It can be used by all dosha types, but is most suitable for Vata and Pitta types, as it will increase Kapha (and toxins) in excess.
Vegan, Vegetarian

Gluten-Free

Grain-Free

Servings: yields 4 cups; 2-4 servings
Time: 20 minutes
Materials
High speed blender 

Tablespoon for measuring

Fancy cup to drink out of (optional)
Ingredients
2.5 cups of fresh water

4 Tbsp hemp seeds

2 Tbsp chia seeds

1 Tbsp cacao powder (optional; omit for those with Vata imbalance)

1 Tbsp honey (substitute with maple syrup)

1 tsp Rasayana Ghrita or Organic Ghee (substitute with coconut oil)
1 tsp cinnamon*

1/4 tsp cardamom*

1/4 tsp ginger powder*

pinch of saffron

pinch of turmeric*

pinch of pink himalayan salt or sea salt (optional)
*All spices can be replaced with 1-2 tsp of my Ayurvedic Breakfast Spices
Directions
1. Add 2.5 cups of water to the blender.
2. Add the hemp seeds, chia seeds, cacoa nibs, honey, ghee and spices.
3. Blend on high for 2-3 minutes or until completely smooth and deliciously frothy.
4. Enjoy as a quick breakfast shake, a midday pick-me-up or as a milk substitute for cereals, etc. 
5. Refrigerate any leftovers for up to 2-3 days (separation may occur and is totally normal).    
 Enjoy more energy increasing Ayurvedic Recipes:
Discover our Digestion-Enhancing product line!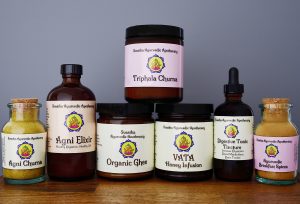 Click here to see our full apothecary menu.