Ayurveda does not always advocate the use of raw foods (especially for Vata types); however, in the right context and with the proper ingredients, any meal made with whole food ingredients can be made Ayurvedic.  Raw foods tend to be cold, dry, rough and hard to digest causing some people gas, bloating and constipation.  Therefore this balanced salad recipe makes good use of healthy oils and warming ingredients to help counteract these qualities, making it a suitable option for all body-types in the Spring and Summer season.
Salads offer us a healthy meal option that is quick and easy to make.  This nutrient rich salad recipe offers us an incredible amount of Vitamins  A, B, C, E, and K; along with iron, calcium, zinc, omega-3's, antioxidants, fiber and so much more.  Utilizing healthy oils, vinegar, lemon and black pepper will help to reduce the dry, cold qualities of the salad, making these nutrients easier to digest and absorb.       
Gluten Free

Vegan/Vegetarian

Servings: 2 servings
Time: 15-20 minutes
**Those with a strong Vata imbalance (i.e. chronic constipation, insomnia or debilitating anxiety) should avoid this recipe and all raw foods until balance is found; otherwise it is suitable for Vata types in the warmer months and in moderation. 
Materials
Cutting board

Knife

Large bowl
Ingredients
4 large leafs of Romaine lettuce, chopped

4 cups of baby spinach (Pitta types substitute with 4 cups of chopped kale leaf)

3/4 cup chopped cucumber

10 pitted and sliced kalamata olives

7 artichoke hearts, sliced thinly

1 small avocado, peeled and cubed

3-4 Tbsp of raw hemp seeds, pumpkin seeds or sunflower seeds (unsalted)

3 Tbsp of goat cheese feta crumbles (optional)

2-3 Tbsp olive oil (Pitta types substitute with sunflower oil)
1 Tbsp balsamic vinegar (omit for Pitta imbalance)
Juice from 1/2 of a lemon(Pitta types substitute with lime)
Fresh ground black pepper to taste (omit for Pitta imbalance)
Directions
1. Chop up the lettuce, spinach, cucumber, olives, artichokes and avocado.  Add to a large bowl.
2. Toss thoroughly, until all of the ingredients are evenly dispersed.
3. Add the hemp seeds (or other options), along with the feta cheese, olive oil, balsamic vinegar, lemon juice and black pepper.   
4. Gently toss again.
5. Indulge and enjoy.  Remember to always eat sitting down, with awareness and surrounded by good company!    
Discover our Digestion-Enhancing product line!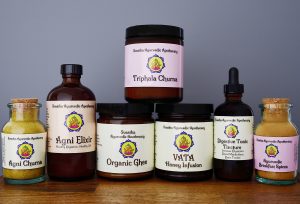 Click here to see our full apothecary menu.