Kitchari is often thought of as a cleansing dish and is widely used in Ayurvedic detoxification programs.  However, this versatile dish can also be modified for rejuvenating the body and mind, increasing one's energy and vitality (aka Ojas).  This particular Kitchari recipe is great for Vata pacification, post-cleanses, after times of sickness or anytime you feel like you need a warm, comforting boost of nourishment.
Just as any Kitchari dish, this meal is considered healing to the gut and the digestive system.  The mung bean and rice combination makes Kitchari a perfect protein, containing all of the 9 essential amino acids.  It also contains a high level of copper, zinc, calcium and magnesium due to the nutrients the sesame seeds provide.  The carrots add a nice boost of Vitamin A, K and biotin, along with the sweet potato nourishing us with a large dose of Vitamins A, B and C.  Altogether this is an easy to digest (and therefore absorb), nutrient rich, high-fiber meal that will help to revitalize the body, build healthy tissue, increase immunity and heal the gut and colon.
Gluten Free
Servings: 2 servings (double the recipe for a larger portion)
Time: 60 minutes, including prep time
Materials
Medium to large sauce pan

Cutting board and knife

Grater (preferred but optional)

Spice grinder (preferred but optional)
Ingredients
5 c bone broth, meat broth, veggie broth (substitute with filtered water if needed)

1/2 c mung beans whole, soaked overnight (substitute with spit mung dal or red lentils)

1/2 c brown rice (substitute with basmati rice or quinoa)

1 medium carrot, grated with a cheese grater (chop if no grater is available)

1/2 of a small sweet potato, chopped into 1/2" cubes

2 Tbsp of Rasayana Ghrita (substitute with Organic Ghee or coconut oil)

15-20 raisins

2 Tbsp shredded coconut

2 Tbsp cashew pieces (substitute with almond slivers)

1-2 Tbsp sesame seeds, freshly ground in a spice grinder or food processor** 

1.5" cube of fresh ginger, finely grated
1 cinnamon stick
1/2 tsp turmeric*

1/4 tsp cumin seed*

1/4 tsp fennel seed*

1/4 tsp fenugreek seed*

1/4 tsp brown mustard seed*

1/8 tsp ground pippali* (aka Indian Long Pepper)

Juice of 1 lemon, freshly squeezed

5-7 sprigs of cilantro, finely chopped

2 green onions, chopped

Sea salt or Himalayan salt to taste

Fresh ground black pepper to taste
*These spices can be replaced with 2 tsp of Agni Churna spice mix
**Grind the sesame seeds into a paste using a spice grinder.  If this utensils are not available, use tahini as a replacement.
Directions
1. Melt the Rasayana Ghrita (or Organic ghee/coconut oil) in a medium to large sauce pan on low heat.  Add the cumin, brown mustard seeds, fennel seeds, fenugreek seeds, pippali, shredded coconut and cashew pieces.  Sauté in the ghee for 2-3 minutes until the seeds start to pop and the coconut and nuts begin to slightly brown.  Stir every 30 seconds to avoid burning.   
2. Add the water and increase the heat to high; bring to a boil.
3. Reduce the heat to low and add the cinnamon stick, mung beans and brown rice.  Cover and cook for 20 minutes. **Keep a slight crack in the lid to avoid overflow.
4. After 20 minutes, add the chopped sweet potatoes, grated carrots and raisins.  Cook for an additional 30 to 35 minutes over low heat. 
5. Stir every 5-10 minutes.
6. Once finished, the beans should be split open, the rice very soft.  If there is too much  crunchiness, add a bit more water or broth and cook until everything is at the desired consistency.  Stir every 5 minutes.
7. After the cooking process is done, add the the sesame seed paste (or tahini), grated ginger, turmeric, fresh lemon juice, chopped green onions, cilantro, black pepper and salt to taste.  Stir together until everything is evenly mixed. 
8. Serve in a bowl, adding a sprinkle of coconut for a delicious finishing touch.
9. Always eat sitting down, with awareness and with good company!           
Discover our Digestion-Enhancing product line!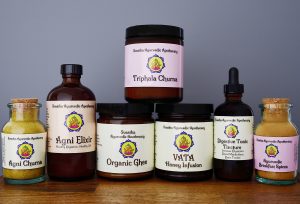 Click here to see our full apothecary menu.