Badam Pak is a traditional Indian dessert that is as delicious as it is nourishing.  "Badam" is the Sanskrit word for almond and "Pak" (in this translation) denotes sweet—and these decadent, easy-to-make, no-bake bars are just that.  This irresistible recipe combines the healing properties of almonds with chickpea flour, ghee, aromatic spices, and coconut to make an energizing, life-promoting, nutrient-packed, guilt-free snack or dessert. 
Almonds hold great medicinal value in Ayurveda and are used to strengthen the body, mind, and nervous system.  They are said to boost intellect, enhance memory, and provide both physical and mental rejuvenation.  Because of this, Badam Pak is often given during times of depletion, Vata-imbalance, low energy, low libido, infertility, pregnancy, postpartum, and breastfeeding.  Here are some more reasons to make almonds a regular part of your diet. 
Health Benefits of Almonds
Excellent source of vitamin E, magnesium, riboflavin (B2), antioxidants, and monounsaturated fat

Good source of protein, calcium, fiber, and phosphorus

Increases energy, immunity, and strength (Ojas)

Enhances complexion; beneficial in skin conditions

Reduces inflammation

Heart tonic

Reduces LDL cholesterol

Balances blood sugar levels and sustains appetite

Strengthens the liver

Strengthens and calms the nervous system

Boosts memory and intellect

Aphrodisiac (enhances libido); improves sperm production

Beneficial during pregnancy, postpartum, and breastfeeding (excellent for mama and baby!!)
Chickpea flour is packed with protein and fiber, allowing you to feel satiated sooner and sustain your appetite longer.  With this in mind, these sweet bars can be a great option as a healthy snack between meals or a fulfilling dessert after eating.  Since they are very filling, even a small bar will leave you very satisfied.  Here are some other benefits of the mighty little chickpea. 
Health Benefits of Chickpeas
Excellent protein source

Incredible source of fiber, manganese, phosphorus, copper, iron, and zinc

Excellent source of B Vitamins and folate

Provides appetite control and sustained hunger (great for weight loss and weight maintenance) 

Lowers LDL cholesterol, overall cholesterol, and triglycerides

Regulates blood sugar

Encourages healthy elimination

Supports colon, digestive, and heart health
These bars are best for Vata and Kapha types, although a balanced Pitta can enjoy them in moderation.  With its warming, nourishing qualities, Badam Pak is said to be most healing in the fall and winter seasons, but in moderation, they can ultimately be taken as a healing treat any time of year.  Badam Pak is considered an "Ahara Rasayana" or rejuvenating food and can be a great companion when you are feeling depleted, exhausted, or weak.  However, as with most Rasayana (rejuvenating) substances, it is always important that your body is relatively free from toxins and your digestion is robust.  And of course, despite their healing properties and health benefits, if you do not digest them well, they are (very sadly) not a healthy option for you.    
Although this is one of my favorite and most entertained sweet recipes, I often enjoy mixing it up a bit; feel free to do the same!  With my deep love for pumpkin seeds, sesame seeds, and hemp seeds, I have often replaced a portion of the ground almonds with various ratios of these seeds.  For example, the last time I made Badam Pak, I used one cup of almonds with ½ cup of freshly ground sesame seeds.  I have similarly used a blend of almonds, sesame seeds, and pumpkin seeds—all with delicious success!
I am a big fan of making a recipe your own, so feel free to play around with different seeds and nuts, as they all hold their own unique health properties and nutrients.   
NOTES:
If you are not familiar with where to find chickpea flour, you can readily find it at an online market such as Thrive Market or Amazon.  I currently use "Anthony's Organic Chickpea Flour".

I have given a range for the honey so you can choose according to your sweet preference.

 

I personally enjoy the lesser amount (¼ cup) but if your purpose is a fairly sweet dessert, you may wish to go with the full ½ cup (or somewhere in between).

If you wish to make this nut-free, replace the almonds completely with equal amounts of any freshly ground seed(s) of choice. My favorites are sesame seeds and pumpkin seeds, but hemp seeds and sunflower seeds are great options too!

If you wish to make this vegan, replace the ghee with coconut oil and use maple syrup instead of honey.

If you do not have chickpea flour (or do not digest it well), you can try to replace it with equal amounts of finely ground seeds or nuts.  I have not tried this since I really enjoy the chickpea flour, but I assume it will still be delicious!
Badam Pak Recipe
Click here for a printable copy of this recipe.
Makes: 16 bars
Prep Time: 20 minutes 
Cook Time: 10 minutes
Refrigeration Time: 30 minutes to 2 hours
*Balanced Pitta types can enjoy in moderation.
Materials
Large, deep skillet or sauté pan
Blender (I LOVE my Blend Tec!!)
Spice grinder (optional, but useful to grind saffron, coconut, nuts, and/or seeds; use blender otherwise)
Large mixing bowl
Mixing spoon
Measuring cups and spoons
8-by-8-inch baking dish (or similar size)
Ingredients
*Replace Ayurvedic Breakfast Spices with ½ teaspoon dry ginger, ⅛ teaspoon powdered cardamom, ⅛ teaspoon turmeric, and an additional ½ teaspoon cinnamon.

**As an Amazon affiliate, by ordering directly through any Amazon links you are helping to support Svastha Ayurveda – Thank you!
Directions
Click here for a printable copy of this recipe.
1. Place the almonds in a blender and blend on high for 1 to 2 minutes or until a coarse powder is formed.  I prefer to leave some small chunks, as this adds a pleasant crunchiness to the bars.

2. In a large, deep skillet or sauté pan, melt ghee over medium heat.

3. Once the ghee has melted completely, reduce the heat to a low-medium and stir in vanilla extract. 

4. Add in the ground almonds and chickpea flour and blend with the ghee until a moist batter has formed.

5. Stirring almost continuously, cook here for 7 to 10 minutes, or until the batter is golden brown and smells richly of freshly baked cookies.

6. Add in the coconut.  Stir everything together until evenly blended.  Continue to cook here for 1 to 2 minutes, stirring constantly.  

7. Pour the batter into a large mixing bowl.  Let it cool in the refrigerator for 10 to 20 minutes or until the batter reaches a warm, but touchable temperature.  Avoid over-cooling!

8. Add in the honey, cinnamon, Ayurvedic Breakfast Spices, and ground saffron.  Stir well and blend evenly.

9. Place a piece of parchment paper in an 8-by-8-inch baking dish.  If this size dish is unavailable, use one of a similar size.  If parchment paper is unavailable, grease the pan with coconut oil. 

10. Pour in the batter and flatten it out evenly.

11. Sprinkle shredded coconut over the top and lightly dust it with cinnamon powder. 

12. Cover the baking dish and place it in the refrigerator for 1 to 2 hours or the freezer for 30 minutes. The finished bars should not be sticky, gooey, or fall apart, but firm and solid, with a slight softness.

13. Cut the bars into squares and place them into an airtight container.  Store in the refrigerator for up to 3 weeks (although I doubt they will last this long!). 

14. Enjoy this sweet bar as an energizing snack, a mid-day pick-me-up, or a delightful dessert.  These treats are best for Vata and Kapha types, but suitable for healthy Pittas in moderation. Badam Pak is especially healing in the fall and winter seasons but can be savored all year round. 
Discover more healing recipes with my 30-Minute Ayurvedic Cookbook!*
Discover over 100 herbal remedies in my Ayurvedic Herbal Medicine for Beginners book!*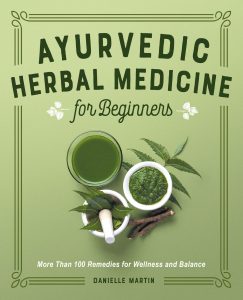 *By ordering directly through these links, you are helping to support Svastha Ayurveda – Thank you!!