In Ayurveda, Dinacharya or the daily routine is an imperative part of any and all healthcare protocols.  Having a consistent routine creates regularity in the body and in the mind.  When we are able to fill each day with essential Self-care practices, eat at proper times and create a regular sleep schedule, our whole beings are able to function at a higher level.  Our focus, clarity and emotions become stabilized and our hormones balanced.  Our energy reaches greater levels and our self-worth and wellbeing begin to shine. 
With all of the positive effects that come from a healthy daily routine, it is no wonder that this is one of the first protocols to re-establish homeostasis and health in the system.  A Dinacharya or daily routine should be utilized by every individual, no matter their body-type, age, gender or level of health.  Although we all have unique needs, it is well known that every-body will benefit from creating a consistent and healthy routine in their life!
So where do you begin to create a healthy routine in your life?
This is a great question, but the answer will look different on a case-to-case basis.  In general, it is best to first establish the areas that need changing in your current routine (i.e. eating times, sleeping times).  Once you know this, then you can begin to discover which overall changes you need to make, bringing some awareness to the issues at hand. 
If there are many areas that need to be "rearranged", then it may be best to figure out which ones are the most detrimental to your health, especially if they are an instigator to a current health concern.  For example, if you have really bad depression and are sleeping until 10am each morning, waking up earlier would be an area you would want to work with right away.    
The good news is that creating a healthy routine in your life does not need to happen overnight.  In Ayurveda, it is best to work slowly with individualized, non-invasive techniques.  Making too many changes all at once will only leave you to feel overwhelmed and frustrated. 
Although I have created a long list of some common Dinacharya practices; this does not mean you need to do everything, at once, overnight.  This is a general list that you will need to make specific for yourself.  Find the areas that you need to work with the most, and make a list of what changes you would like to make.  Start with 2-3 goals for the first month, find some comfort in these and then you can begin to add more at a slow but steady pace.   
Click here for a printable version our Dinacharya Chart.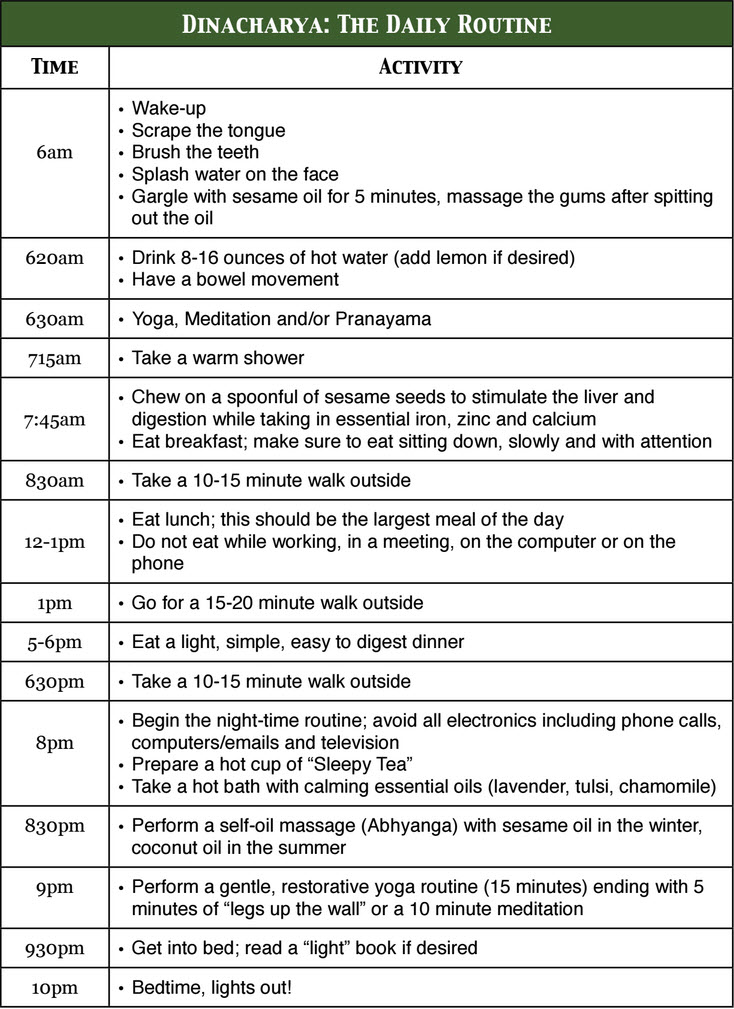 Click here for a printable version our Dinacharya Chart.
***Please note that the specific times written, are listed so that you have a general feel of the "ideal time" to do any respective practice.  However, everyone's schedule is different, so some areas may need to be shifted a bit.  The most important times to keep on point will be the eating, sleeping and wake-up times.