Starting your day with a large cup of hot water is great for your health, but it can often get a bit boring.  By adding in a few simple ingredients, you will bring some flavor to your morning drink and increase the health benefits even further!  This Kapha-reducing tonic is prefect for promoting digestion, detoxification, weight loss, immunity, and hydration.  With ingredients such as ginger, black pepper, and apple cider vinegar, taking this tonic each morning is a sure way to get the blood flowing and the energy going!
This cleansing tonic can be taken first thing in the morning on an empty stomach for Kapha-types or any individual desiring weight loss or detoxification.  With its decongestive, immune-boosting properties, it is equally as beneficial for easing a cold, fever, flu, or respiratory infection.  For those that are needing a stronger boost in any of these areas, this tonic can be taken three times daily about 30 minutes before each meal.  This method will be powerful if you are experiencing more severe symptoms of sickness, weight issues, sluggish digestion, slow metabolism, sleepiness after food, or a dull appetite.
Kapha-Balancing Tonic Recipe
Click here for a printable copy of this recipe.
Materials
Small pan to heat water

Mug to drink

Measuring spoons and stirring spoon
Ingredients
12 ounces water

1/2 lemon, juiced

1/2 teaspoon apple cider vinegar

1/4 to 1/2 teaspoon ginger powder

1/8 teaspoon freshly ground black pepper

2 teaspoons honey
Directions
Click here for a printable copy of this recipe.
1. Heat 12 ounces of water to just below a boil. 

2. Add in the fresh lemon juice, apple cider vinegar, ginger powder, and black pepper.

3. Stir well until all of the ingredients are thoroughly blended.

4. Pour the drink into a mug and allow it to cool slightly.  Once the tonic is at a drinkable temperature, stir in the honey. 

5. Enjoy this drink first thing each morning on an empty stomach to awaken the energy, boost the digestive fire, stimulate the metabolism, aid in elimination, remove congestion, and gently flush out the system. 
Now available: "Ayurvedic Herbal Medicine for Beginners" filled with over 100 Ayurvedic home remedies!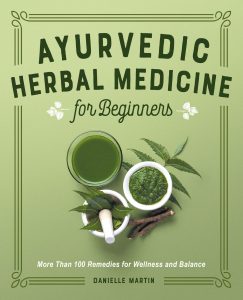 Discover more healing recipes with my 30-Minute Ayurvedic Cookbook!