Ojas is the biological energy that is responsible for your energy, vitality, longevity, immunity, softness, and glow. During the fall and winter seasons, Vata tends to increase, depleting Ojas in the body, leaving you fatigued, unmotivated, dried out, and prone to sickness.  Low Ojas can also lead to a restless mind, lack of grounding, sleep issues, and low libido.  If you are experiencing feelings of depletion or restlessness, this nourishing recipe is a great way to regain your strength and vitality, and ground your energy throughout the fall and winter seasons.
Read more on "How to Increase Ojas".
This breakfast recipe is nourishing, sustaining, and perfect for a cold morning.  It will truly calm your nervous system and soothe your soul.  Besides increasing your energy, immunity, and vitality, this nutritious recipe is packed with vitamins, antioxidants, and phytonutrients.  Ojas Oatmeal is high in fiber, protein, healthy fats, iron, zinc, magnesium, manganese, and copper.  Wholegrain oats are well known for reducing inflammation, lowering cholesterol levels, reducing your risk for heart disease, balancing blood sugar levels, and reducing your risk for obesity.
Ojas-Increasing Oatmeal Recipe
Click here for a printable copy of this recipe.
Vegetarian (can be made Vegan)
Serving: 2 to 3
Time: 35 minutes
*See doshic variations at the bottom of the page to make this recipe more Kapha-friendly!
Materials
Medium saucepan
Spoon for mixing
Measuring cups
Ingredients
2 cups water

1¼ cups almond milk (or milk of choice)

1 cup steel-cut oats

1/8 teaspoon salt

20 raisins

2 Medjool dates, pitted and chopped 

2 tablespoons shredded coconut 

1 to 2 teaspoons Ayurvedic Breakfast Spices*

½ to 1 teaspoon cinnamon

1 teaspoon vanilla extract

2 teaspoons ghee 

1 to 2 tablespoons honey (optional, use maple syrup for Pitta)

Dash cinnamon, for garnish

Coconut, for garnish
*Ayurvedic Breakfast Spices can be replaced with 1 teaspoon of cinnamon, ½ teaspoon ginger powder, ¼ teaspoon cardamom powder, and ⅛ teaspoon turmeric.
 Directions
Click here for a printable copy of this recipe.
1. Place the water and almond milk into a medium saucepan.  Bring the water to a boil and then reduce the heat to a low-medium setting.

2. Add in the steel cut oats and salt.  Cook the oats covered for 20 minutes over low-medium heat. The lid may need to be cracked to avoid overflow. Stir every 7 to 10 minutes. 

3. Turn the heat off but keep the pan on the hot burner.  Add in the raisins, dates, coconut, Ayurvedic Breakfast Spices, cinnamon, vanilla, and ghee. Stir until everything is evenly mixed. Cover the pan for 5 minutes to allow the oats to soften.

4. Serve into bowls.  Once the oats have cooled slightly, add in 1 to 3 teaspoons of honey* (if used), a dash of cinnamon, and a sprinkle of the coconut onto each serving. 

5. Sit, eat, enjoy, and energize.
6. Store leftovers in an airtight container for 2 to 5 days.
*Honey should never be heated or cooked over 108 degrees as it will become toxic to the system (read more on why here).
Reheating tip
Double this recipe for your workweek! Leftovers are not always recommended in Ayurveda, but a reheated bowl of homemade oatmeal will likely be healthier than a piece of toast or bowl of cold cereal and milk.  To reheat, place the amount desired in a pan, stir in ½ cup of milk or milk alternative, and set the heat to low.  Cook for 5 to 10 minutes stirring frequently.  Adding in some fresh cinnamon and ghee will help to liven up the flavor.
Optional Doshic Variations
VATA
This recipe is great for Vata types and during Vata imbalances; no changes are needed! 
For extra nourishment and protein, you can stir in one to two eggs during the last three to five minutes of the cooking process.   

PITTA
To make this recipe even better for Pitta types, use maple syrup instead of honey.  Otherwise, this recipe is naturally Pitta-reducing and can be left as is.
For extra nourishment and protein, you can stir in 2 to 4 egg whites egg during the last three to five minutes of the cooking process.
KAPHA
Kapha types will want to use buckwheat groats instead of the steel cut oats (same proportions).  They can eliminate the dates, and replace the shredded coconut with 1 tablespoon of freshly ground flaxseed.  The amount of ghee can be reduced to ½ teaspoon.  The spices can be increased to help aid in digestion and add a bit of lightness to the meal.  For times of congestion or heaviness, the almond milk can be replaced with equal amounts of water. 
Try my Ayurvedic Breakfast Spices!
Now available: "Ayurvedic Herbal Medicine for Beginners" filled with over 100 Ayurvedic home remedies!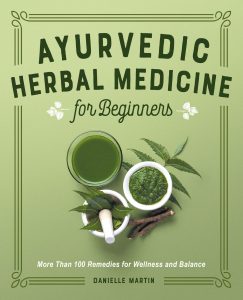 Discover more healing recipes with my 30-Minute Ayurvedic Cookbook!