Ojas, according to Ayurveda, is the biological energy that is responsible for our energy, vitality, longevity, immunity, softness and glow. During the fall and winter seasons, Vata tends to increase, depleting Ojas in the body, and leaving one fatigued, unmotivated, dried out, and prone to sickness.  If you are suffering from feelings of depletion, this recipe is a great way to regain your vitality for the fall and winter to come.
Read more on "How to Increase Ojas".
This breakfast recipe is extremely nourishing, sustaining, and perfect for these cold mornings.  It will truly calm your nervous system and soothe your soul.  Besides increasing your energy, immunity, and vitality, this nutritious recipe is packed with vitamins, antioxidants, phytonutrients, and loaded with healing properties.  This meal is high in fiber, protein, healthy fats, iron, zinc, magnesium, manganese and copper.  Wholegrain oats are well known for reducing inflammation, lowering cholesterol levels, reducing your risk for heart disease, balancing blood sugar levels, and reducing your risk for obesity.
Click here for a printable copy of our Ojas-Increasing Oatmeal recipe!
Vegetarian (can be made Vegan)
Serving: 2 to 3
Time: 35 minutes
*See doshic variations at the bottom of the page to make this recipe more Kapha-friendly!
Materials
Medium sauce pan
Spoon for mixing
Measuring cups
Ingredients
3.25 cups water

1 cup steel cut oats

1/8 teaspoon salt

20 raisins

2 medjool dates, pitted and chopped

2 tablespoons shredded coconut

1 tablespoon almond butter

1 1/2 teaspoons cinnamon powder*

1/4 teaspoon cardamom powder*

1/2 teaspoon ginger powder*

1 teaspoon vanilla extract

2 teaspoons ghee

1 to 2 tablespoons honey (optional, use maple syrup for Pitta)

Dash cinnamon, for garish

Coconut, for garnish
*All of the spices can be replaced with 1 tsp of the Ayurvedic Breakfast Spices.
 Directions
1. Place the water into a medium sauce pan.  Bring the water to a boil and then reduce the heat to a low-medium setting.

2. Add in the steel cut oats and salt.  Cook the oats covered for 20 minutes over low-medium heat. The lid may need to be cracked to avoid overflow. Stir every 7 to 10 minutes. 

3. Turn the heat off but keep the pan on the hot burner.  Add in the raisins, chopped dates, coconut, almond butter, cinnamon, cardamom, ginger, vanilla, and ghee. Stir until everything is evenly mixed. Cover the pan for 5 minutes to allow the oats to soften.

4. Serve into bowls.  Once the oats have cooled slightly, add in 1 to 3 teaspoons of honey* (if used), a dash of cinnamon, and a sprinkle of coconut onto each serving. 

5. Sit, eat, enjoy, and energize.
*Honey should never be heated or cooked over 108 degrees as it will become toxic to the system.
Reheating tip: Double this recipe for your work week.  To reheat, place the amount desired in a pan, stir in 1/2 cup of milk or milk alternative, and set the heat to low.  Cook for 5 to 10 minutes stirring frequently.  Adding in some fresh cinnamon and ghee will help to liven up the flavor.
Click here for a printable copy of our Ojas-Increasing Oatmeal recipe!
Optional Doshic Variations
Vata:
This recipe is great for Vata types and during Vata imbalances; no changes needed!
Pitta:
To make this recipe even better for Pitta types, use maple syrup instead of honey.  Otherwise this recipe is naturally Pitta reducing and can be left as is.
Kapha:
Kapha types will want to use buckwheat groats instead of the steel cut oats (same proportions).  They can eliminate the dates and almond butter, and replace the  shredded coconut with 1 tablespoon of freshly ground flaxseed.  The amount of ghee can be reduced to 1/2 teaspoon.  The spices can be doubled to help aid in digestion and add a bit of lightness to the meal.
Discover our Digestion-Enhancing product line!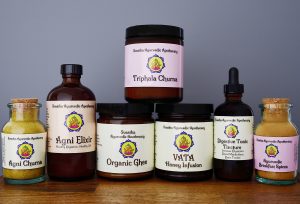 Click here to see our full apothecary menu.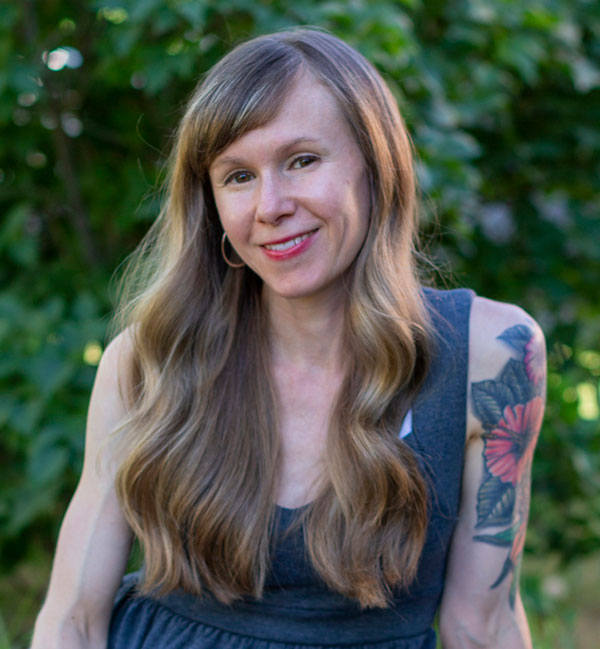 Danielle is a certified Advanced Ayurvedic Practitioner and the founder of Svastha Ayurveda, a humble Ayurvedic clinic and herbal apothecary.  Danielle has worked with clients worldwide to guide, educate, and empower them back into balance and health through the ancient wisdom of Ayurveda.  She graduated from the Ayurvedic Institute (2011) and Alandi Ayurveda Gurukula (2013) and continues her studies to this day.  Danielle currently lives in Longmont, Colorado with her beautiful family of five.  When she is not working, she enjoys a busy, but simple life cooking, reading, writing, going for walks, practicing Yoga, meditating, breathing, and spending time with her family. Read more about Danielle