This healthy dish is a great compliment to any meal and can even be eaten as an entire meal all by itself!  Kale offers us loads of Vitamin A, C and K along with iron and calcium. The sesame seeds that are used to make tahini, are a great source of copper, calcium, magnesium, iron, phosphorus, vitamin B1, zinc, molybdenum and selenium. Together they nourish us with dietary fiber, protein and an abundance of anti-oxidants.
This dish brings us many health benefits and is great for bone health, heart health and liver health while strengthening the blood and reducing inflammation. The spices and sesame oil that are used here, aid in our digestion and absorption of these nutrients, making this a balanced, healthy meal option for just about anyone.
*See modifications for Pitta and Kapha dosha below.
Ingredients
Green kale, one bunch
¾ cup of Tahini, raw or roasted (Kapha types should cut this amount in half)
2-3 Tbsp Sesame oil (Pitta types should use coconut oil or sunflower oil)
1/8 tsp cumin, freshly ground
1/8 tsp brown mustard seed, freshly ground (omit for Pitta)
¼ tsp turmeric powder
Freshly ground black pepper to taste
Cayenne powder (optional, omit for Pitta)
Pink Himalayan salt to taste
½ of a lemon (Pitta types should omit lemon or replace with lime)
Directions
1. Rinse the kale in water and shake it dry. Cut the leaves down the center and remove the stems.
2. Place the de-stemmed kale onto a cutting board and slice them horizontally into one inch slices.
3. Warm 1-2 Tbsp. of sesame oil over medium heat in a large skillet or sauté pan. Once the oil is warm, place the sliced up kale in the pan and turn the heat down to low.
4. Stir frequently for 4-7 minutes, uncovered, until kale is bright green, moist, and tender. Take off of heat and cover.
5. In a separate small sauce pan, heat 1-2 Tbsp. of sesame oil over medium heat.
6. Once hot, add the cumin, brown mustard seed and freshly ground black pepper.
7. Stir spices continuously over medium heat for about ½ -1 minute.
8. Add the tahini and reduce the heat to low. Stirring frequently, let the tahini sauce simmer for about 5 minutes.
9. Remove from heat and mix in turmeric and a pinch of cayenne pepper (optional).
10. Add the golden tahini sauce to the kale and stir until the sauce evenly coats the entire bunch of sauteed greens.
11. Squeeze a half of a lemon onto the dish and salt to taste.
12. Eat, share, love and enjoy!!
Discover our Digestion-Enhancing product line!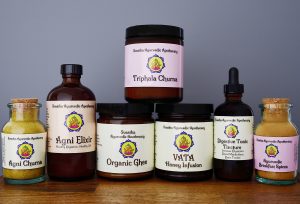 Click here to see our full apothecary menu.