If you are looking for a healthy alternative during this season of snacking, here is a great recipe to add to your weekly meals.  It is amazing as a meal in itself, a side dish (great for holidays meals!), or even an appetizer.  It is filling, yet low in calories and packed full of vitamins.  Although this recipe is not "Ayurvedic" in itself, it uses many of their principles such as eating warm, soupy foods during the cold months, eating with the seasons, and using warming spices to aid in digestion.  Using meat broth as a base makes this meal even more nourishing, savory and delicious!
The underrated pumpkin has a long list of health benefits.  With the high amount of Vitamin A and C, fiber, antioxidants and potassium that this winter squash provides, it is of no surprise.  This savory soup is great for the immunity, eye health, digestive health, and weight-loss while naturally providing anti-aging, anti-cancer benefits.  The turkey (or chicken) broth provides further nourishment with many essential easy to digest nutrients, increasing both the healing properties and taste of this healthy recipe.
Materials
Cutting board
Sharp, large knife
Peeler
Glass baking dish (about 12″ x 9″)
Baking foil
Hand blender (preferred) or regular blender
Ingredients
One medium pie pumpkin (replace with butternut squash if needed)
6 cups of turkey or chicken broth (homemade with bones is best!)
1 Tbsp of ghee or coconut oil (omit for Kapha types)
1/2 tsp cumin seed
1/4 tsp brown mustard seed
1/8 tsp turmeric
1/8 tsp ginger (grated fresh or dry)
Optional pinch of cayenne pepper (omit for Pitta types)
Fresh ground black pepper to taste
Pink Himalayan salt to taste (1/2 tsp is a good place to start)
Directions
Roasting the Pumpkin:
1. Preheat the oven to 350 degrees.
2. Using a sharp knife, carefully remove the stump and then cut the pumpkin down the center into 2 pieces.  Using a spoon or measuring cup, scoop out all of the seeds and set aside (for baking) or compost.
3. Peel the entire outside of the pumpkin until only the meat remains.
4. Cut the pumpkin into about 1″ cubes and place them into the glass baking dish.
5. Add the cumin seed, brown mustard seed and ghee or coconut oil to the pumpkin dish and mix until the cubes are evenly coated.  If the ghee or oil is solid, just place in the dish and you can mix around after it has been in the oven for a few minutes and has melted.
6. Cover with baking foil.
7. Place in the heated oven and bake for 45-60 minutes, or until the pumpkin is juicy and soft enough to cut with a fork.  I would also recommend to stir ever 15-20 minutes for even roasting.
Preparing the Soup
1. If using a hand blender, place the roasted pumpkin into a large sauce pan and add the entire amount of turkey broth.
2. If using a regular blender, place the pumpkin in the blender and add the broth until it is at it's capacity without causing an explosion after you press "blend".  Just to be clear, this means to make sure and leave a few inches from the top.
3. For both blending types, add the salt, black pepper, cayenne (optional), turmeric and ginger and blend on medium for 1-2 minutes or until the soup is completely smooth.
4. If using a regular blender, place in the mixture in a large sauce pan and add the remaining broth.  Stir until the blended soup and remaining broth have become one.
5. Heat on low to medium heat, for 5-10 additional minutes, stirring frequently.
6. Taste and add more salt or pepper as needed.
7. Serve as a main dish, side dish or appetizer.
Discover our Digestion-Enhancing product line!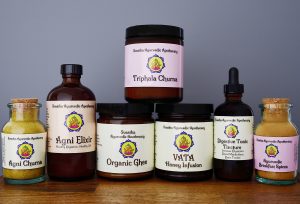 Click here to see our full apothecary menu.