During the fall and winter months I can never find enough ways to get my sweet potato fix.  Here is a simple, delicious and versatile recipe that is nourishing for all body types and soothing to the soul. 
The sweet potato is a vitamin packed powerhouse and is one of the richest sources of beta carotene (Vitamin A) available.  One medium size sweet potato contains over 200% of our daily value for Vitamin A, over 50% of both Vitamin C and manganese; over 30% of copper, biotin, Vitamin B6 and pantothenic acid; and is a strong source of potassium, fiber and Vitamins B1, 2 and 3.  It's definitely no surprise that this gift from nature is one of the "Top 10 Foods for Hair Health"!  Sweet potatoes provide health enhancing anti-oxidants, regulate the blood sugar and contain powerful anti-inflammatory properties.
Kale is also a great health addition to this recipe.  With only 36 tiny calories per cup, kale packs over 1000% of our Vitamin K needs, 100% of our Vitamin A, 70% Vitamin C and is a strong source of fiber, calcium, Vitamin B6, manganese and copper.  Kale is a naturally detoxifying, anti-inflammatory, anti-oxidant rich, cancer preventative and heart healthy powerhouse.  Oh my!!
With all of these life-promoting properties, it is a treat to discover how delicious this recipe is as well.  In fact, it seems to have made its way to my weekly menu, tasting just as good each time around.  Now I am excited to share this nourishing recipe with you!  As with all of my recipes, I strongly encourage you to play around with the ingredients and make it your own.  Let me know if you discover any awesome variations!
Materials
Sauté pan
Medium size sauce pan
Stirring utensils and knife
Cutting board
Ingredients
3 cups of water or chicken broth
1.5 cups of brown rice
1/2- 3/4 bunch of kale
1 large or 2 small sweet potatoes
2 eggs (optional; can be omitted or replaced with another healthy protein source)
Sesame oil (can be substituted with ghee, coconut oil or olive oil)
2 tsp Ume plum vinegar (optional; can be omitted or substituted with soy sauce)
1/4 tsp cumin seeds
1/4 tsp black mustard seeds
Pinch of cayenne pepper (not recommended for Pitta types)
Salt and fresh ground pepper to taste
Directions
1. Place the water (or broth) in the sauce pan and bring to a boil. Once boiling, add the rice and turn the heat down to low.  Cook covered, on low heat for 45 minutes.
2. While this is cooking, begin to prepare the veggies. Chop the sweet potato into tiny cubes, about 3/4 of an inch in both height and width.  Do not peel!  The skin has lots of nutrients too!
3. After rinsing off the kale, cut length-wise down each side of the stem to remove it. Compost the stem, as they tend to be a bit too fibrous and stringy for most people.  Take the remaining kale leafs and cut them horizontally at about a 1/2 inch of thickness.
4. Pour about 1.5 Tbsp of sesame oil onto the sauté pan and turn the heat on medium. Add the cumin seeds, mustard seeds, pepper and cayenne and sauté for about 2 minutes.  Stir frequently until the seeds begin to pop.
5. Add the sweet potato cubes and stir until they are evenly coated with the spices and oil. On low/med heat, cover and cook for 10 minutes.  Check and stir every 2-3 minutes.
6. After 10 minutes, add the kale and stir until evenly coated with oil and spices. Cover and cook for 5 minutes.  Check halfway and stir.
7. After the veggies are thoroughly cooked, place them in a bowl and set them aside. Using the same sauté pan, add about 1 tsp of oil.  Add the 2 eggs (optional) and scramble on medium heat for 4-5 minutes, until fully cooked.  Stir every 1-2 minutes.
8. Once this is done, add the sautéed sweet potatoes and kale back to the pan.  Add the brown rice once it is soft, fluffy and separated. Mix everything together until it is evenly blended.
9. In a separate small bowl, mix 1-2 Tbsps of sesame oil with 2 tsp of Ume Plum Vinegar or soy sauce (optional). Add a dash of cayenne pepper and stir.  Note:  If you do not use the Ume or Soy sauce, more salt may be needed to compensate.  If you are Kapha by nature, these salty substances should be used minimally.
10. Add this mixture to the scramble and stir about until the sauce has evenly coated the entire dish. Add salt and pepper to taste.
11. Serve, share and nourish…
Here are some doshic variations to prepare this recipe for your body-type:
Vata:  This recipe is just right for Vata types; no changes needed!
Pitta: For Pitta constitutions, omit the cayenne pepper and Ume plum vinegar or soy sauce.  Replace the sesame oil with ghee or coconut oil and a bit extra of the Himalayan salt..
Kapha:  For Kapha constitutions, keep the salt and oil to a minimum.  Increase the kale to 1 full bunch and reduce the rice to only 1 cup total (2 cups of water).  Use 2 egg whites instead of the full egg.  Omit or cut the Ume plum vinegar or soy sauce in half.  Use a hefty amount of cumin, mustard seeds and cayenne to help aid in digestion.
Discover our Digestion-Enhancing product line!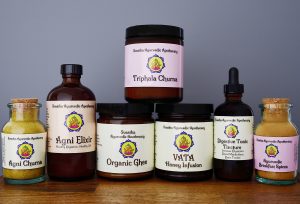 Click here to see our full apothecary menu.