Another Ayurvedic favorite of mine! This nourishing and grounding drink is a lovely way to end the day. Golden milk is great for calming Vata dosha, which has a tendency to become unbalanced during winter and fall months. However, this nourishing tonic can be taken at any time of year! 
This drink recipe is calming for the mind and healing to the body. With all of the warming spices added, Golden Milk is a great way to increase the digestion and circulation. Golden Milk's health properties don't end there however.  This soothing tonic has also been shown to strengthen the bones (great for treating or preventing osteoarthritis), reduce symptoms of anemia, increases ojas (immunity and vitality), cleanse the blood and beautify the complexion.  Due to its naturally grounding properties, I often recommend taking this drink before bedtime to promote sound sleep (add a pinch of Ashwagandha for even greater sleep enhancing results!).
Materials
Small saucepan
Spoon
Hand blender (optional)
Ingredients
1 cup organic whole milk (can be substituted with almond or hemp milk)
1 tsp. Organic Ghee or coconut oil
¼ to ½ tsp organic turmeric powder
Large pinch each of ginger, cinnamon, nutmeg, and cardamom powder*
Small pinch of saffron
Raw honey to taste
*Spices listed can be replaced with 1/2 tsp of the Ayurvedic Breakfast Spices
NOTE: If one cup of milk is too much, you can substitute by using ½ cup milk to ½ cup water.
Directions
1. Warm the milk in a small pan over low-medium heat, stirring occasionally.
2. Once warm, slowly add the ghee and spices while continuing to stir. Mix until there are no chunks and the powder has fully absorbed into the milk. If you have a hand blender, this works particularly well and it also creates a yummy frothy texture.
3. Remove from heat and let cool to a drinkable temperature. Once the temp has cooled to about 110 degrees, add a small spoonful of honey to the desired sweetness. Top off with a sprinkle of extra cinnamon.
4. Sit, sip, and enjoy!!
Print out a pdf copy of our Golden Milk recipe here.
***Due to the thick and heavy qualities of the milk, I do not recommend this drink to anyone with excessive toxins in their system.  Click here to see if you show signs of toxins in your system. 
Optional Doshic Variations
Vata:
Although this drink is the most beneficial for Vata types overall, one can enhance the Vata-reducing properties even further by adding in 1/2-1 tsp of Ashwagandha powder.  Otherwise no changes are needed!
Pitta:
Overall this drink recipe is Pitta-pacifying; however, some Pitta types may need to reduce or eliminate the more heating spices such as cinnamon, nutmeg, saffron and ginger. Honey is considered heating as well and can be replaced with maple syrup. To enhance the Pitta-soothing nature of this drink and increase its overall health benefits, 1/2-1 tsp of Shatavari powder can be added.
Kapha:
This drink recipe is considered increasing to Kapha dosha, although some changes can be applied to help reduce the heavy, viscous nature of this drink.  Cow dairy should be avoided and replaced with either goat milk, almond milk or hemp milk.  If this is still too heavy for Kapha, then the milk should be cut in half and replaced with water (i.e. 1/2 cup almond milk and 1/2 cup of water).  The spices should be increased to help spark the digestive fire and reduce the Kapha-increasing qualities of this beverage.  If one makes these changes and still experiences symptoms such as congestion, cough or a coated tongue after drinking, then this drink should be avoided altogether.
Discover our Digestion-Enhancing product line!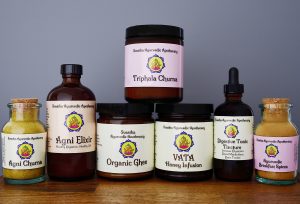 Click here to see our full apothecary menu.