A lassi is an after-meal digestive probiotic drink common in Ayurveda.  It consists mainly of plain yogurt, water, and spices, making it a powerful and delicious after dinner digestive boost.  This particular lassi recipe includes turmeric among other spices, making it a great tonic for the skin, liver, and blood.  In fact, when turmeric is taken in this manner (with yogurt), it is an excellent blood strengthener and cleanser, and is considered a great remedy for those with anemia.
A lassi can be made to be savory or sweet , although I tend to appreciate the latter.  Therefore I enjoy adding a touch of honey to my lassi recipes to balance the bitterness of the spices and the sourness of the yogurt.  Honey is also highly medicinal when used in moderation as it acts as a catalyst to the herbs.  Honey is considered to possess a  "scraping" property meaning it scrapes toxins, excessive fat, and cholesterol from the system.   Not to mention it is great for allergies when local, contains invaluable enzymes when raw, and is antibacterial in all forms.   If that isn't enough, having a slightly sweet lassi after meals, will help to conquer the typical post-meal sweet craving in a healthy, guilt-free way!
Many people have heard of the "mango lassi", and if you have ever tried it, it is truly delicious.  However, this is NOT an Ayurvedic drink as it contains one of the main improper food combinations: fruit and dairy.  In fact, fruit should not be eaten with any other food types and should never be eaten after a meal (read more on food combining here).  Therefore, I highly suggest avoiding the mango lassi, as instead of being a digestive aid, it will wreak havoc on the digestive fire.
Luckily this lassi recipe is a much healthier replacement and is quite delicious in its own right.  In moderation it can be taken after meals by all body types, although in excess it has potential to increase Kapha (due to the dairy) and Pitta (due to the fermentation factor).
Golden Spiced Sweet Lassi Recipe
Click here for a printable copy of this recipe.
*See modifications for each dosha below.
Ingredients
1 cup plain yogurt (use goat yogurt or non-dairy yogurt for Kapha)

1 cup coconut water (use water for Kapha)

1/4 teaspoon cinnamon*

1/8 teaspoon turmeric*

1/8 teaspoon ginger powder*

Large pinch cardamom powder*

3 saffron stigmas

1/2 teaspoon vanilla extract

2 teaspoons honey (use maple syrup for Pitta)
*These spices can be replaced with 1/4 to 1/2 teaspoon of the Ayurvedic Breakfast Spices
Directions
1. Place the yogurt and coconut water into a large jar or small mixing bowl.

2. Add in the cinnamon, turmeric, ginger, cardamom, saffron, vanilla, and honey. 

3. Blend well using a hand blender for 30 to 60 seconds.  If this is not available, a regular blender can be used.

4. Take 1/2 cup of the lassi directly after a meal or between meals to boost the digestive fire, promote healthy gut flora, and reduce symptoms of gas and bloating. 

5. Store in an airtight jar in the refrigerator for 5 to 6 days.

Click here for a printable copy of this recipe.
Optional Doshic Variations
Vata:
This recipe is great as is for Vata types and should be taken regularly after meals to reduce gas, bloating and constipation symptoms.
Pitta:
Pitta types should replace the honey with maple syrup which is more cooling.  If available you should use homemade yogurt, as this is more cooling and less sour than its store bought counterpart.
Kapha:
Kapha types should use plain goat yogurt or non-dairy yogurt, rather than cow yogurt, and plain water to replace the coconut water.  You can double the amount of ginger and add in a pinch of black pepper.  If there is a strong Kapha imbalance such as congestion, cough, excessive mucus, excessive weight or obesity, you should cut the amount of yogurt in half.
Discover our Digestion-Enhancing product line!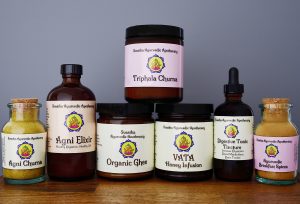 Click here to see our full apothecary menu.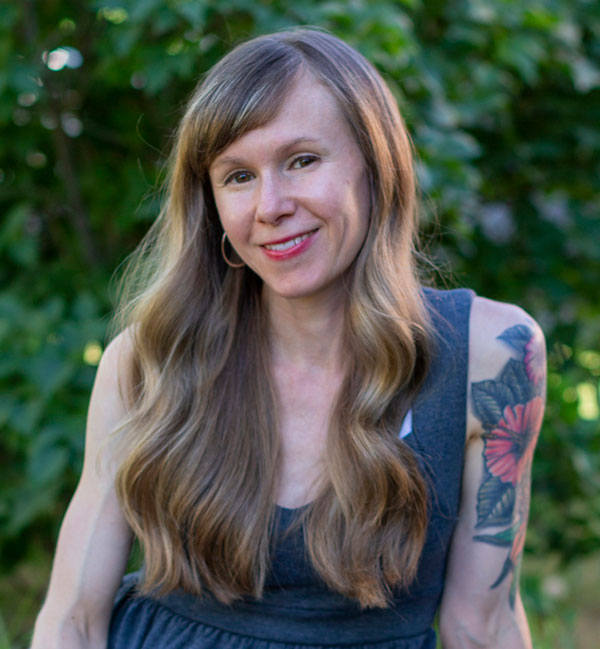 Danielle is a certified Advanced Ayurvedic Practitioner and the founder of Svastha Ayurveda, a humble Ayurvedic clinic and herbal apothecary.  Danielle has worked with clients worldwide to guide, educate, and empower them back into balance and health through the ancient wisdom of Ayurveda.  She graduated from the Ayurvedic Institute (2011) and Alandi Ayurveda Gurukula (2013) and continues her studies to this day.  Danielle currently lives in Longmont, Colorado with her beautiful family of five.  When she is not working, she enjoys a busy, but simple life cooking, reading, writing, going for walks, practicing Yoga, meditating, breathing, and spending time with her family. Read more about Danielle