Although Kitchari is not a necessity to have an Ayurvedic diet, it can definitely be a healthy staple for those that choose.  In fact, more days than not, I find myself creating (and craving) this dish on a daily basis.  The reason why I LOVE this dish so, is because of the versatility in taste, ingredients, and health properties that it possesses.  Kitchari can vary quite a bit in quality depending on the spices, oils, veggies, dahl and grain used.  Some Kitchari recipes may be perfect for a cleanse, while others may be more building, and therefore more useful in rejuvenation therapy.   Some may be beneficial for the Fall season and others better for Summer.  And, as you will see with this particular Kitchari recipe, some can be very sattvic (balanced) by nature, and therefore useful for all times!
As you may have discovered, there are countless Kitchari recipes available.  This is great to keep things interesting, but can be equally confusing at the same time.  So what makes this Kitchari recipe different?  For one it is made using quinoa, rather than the traditional basmati rice.  Although I love basmati rice, it is still a refined grain that possess heavy and sticky qualities, while lacking in fiber and other vital nutrients.  In fact, many individuals (especially with high Kapha) report feeling very heavy, sleepy and bloated after eating white rice.  Alternatively, the quinoa used in this recipe to replace the basmati rice, is light in quality while possessing a complete protein source and a wide range of vitamins and minerals. 
A few other factors that really make this Kitchari recipe special is the colorful veggies that provide a cleansing, alkalizing and nutritive effect, the gently warming digestive spices that can be used by all dosha types, and finally the optional sesame seed (or tahini) blend that provides a deliciously creamy flavor, while adding essential iron, magnesium and calcium to this dish.  With all of these aspects in mind, it is no wonder why this recipe can be used long-term, no matter the season or the body-type of the recipient.
Doshic effect: Vata↓, Pitta↓, Kapha↓ (some specific alterations may be needed; see below for details)
Serving: 2-4
Time: 15 minutes prep, about 45 minutes cook time
Gluten Free, Vegetarian (can be made vegan)
Materials
Cutting board and knife

Large sauce pan

Small to medium sauce pan

Small frying pan (for optional sesame seed blend)
Ingredients
6 cups filtered water (for cooking mung dahl)

1.25 cups filtered water (for cooking quinoa)

1 cup mung dahl 

1/2 cup white quinoa

1 celery stalk, chopped

1/2 of a small-medium sized zucchini, sliced and quartered

1/2 of a small-medium sized yellow squash, sliced and quartered

1/2 of a medium to large sized carrot, chopped

2 leafs of collard greens, (replace with kale as needed), de-stemmed and thinly sliced

1/2 tsp fresh ginger, finely grated

1/4 tsp turmeric powder*

1/8 tsp brown mustard seeds (omit for Pitta)*

1/8 tsp fenugreek seeds (omit for Pitta)*

1/8 tsp fennel*

1/8 tsp cumin seed*

Himalayan Salt (to taste)

Freshly ground black pepper (to taste)*

Fresh juice from 1/2 of a lemon (use lime in hot season and for Pitta types)

1-3 tsp organic ghee (substitute with sesame oil for Vata and Kapha, or coconut oil for Pitta if preferred)

Handful of cilantro, chopped (for garnish)

1 Tbsp shredded coconut (for garnish), omit for Kapha

2 Tbsp sesame seeds, freshly and finely ground (substitute with 2 Tbsp Tahini)**
*These listed spices can all be replaced with 1 tsp of Agni Churna spice blend.
**Optional addition, best for Vata types (may be too heating for Pitta and too heavy for Kapha).
Directions
Quinoa Cooking Instructions
1. Bring 1 and 1/4 cup of water to a boil in a small sauce pan.
2. Once boiling, turn the heat to low and pour in the uncooked quinoa, an 1/8 tsp of pink Himalayan salt, and a pinch of black pepper.
3. Cover the pot, leaving a slight crack to avoid overflow.
4. Cook here, on low, for 15-20 minutes or until the quinoa is at the desired softness.
5. Once the quinoa is finished, cover and set aside until remaining meal is complete.
Mung Dahl and Veggie Instructions
1. Place the large sauce pan over medium heat and add 1-2 tsp of ghee (or oil substitute).  Once the ghee has become liquid, add in the fenugreek, brown mustard seed, fennel, cumin and black pepper (or Agni Churna).  Stir continuously for about 1-3 minutes, until the seeds are crackly and turn a slightly darker color.  Please be very careful not to overheat, as this will burn the spices and ghee/oil!
2. Once you have toasted the spices to your desire, add in the 6 cups of water, cover and bring to a boil.
3. Once the water is boiling, turn the heat to a low-medium heat and add in the mung dahl.  Cook here for 15 minutes, stirring every 7-8 minutes.  The pot should be covered, but slightly cracked to avoid the water from overflowing.  If the water does overflow, you may need to lower the heat slightly. 
4. After 15 minutes of boiling here, add in the chopped/sliced celery, collard greens, zucchini, yellow squash and carrot.  Cook on the low-medium heat for 30 more minutes, continuing to stir every 7-8 minutes.
5. Once the 30 minutes is up, check on your dahl to make sure it is "mushy".  This means that the beans have "exploded", and their circular form no longer exists.  Cooking the split beans to this capacity allows for easier digestion with less unwanted effects such as gas and cramping.  The veggies should be quite soft as well.
6. Once you have your desired consistency of the dahl take off of the heat.  Add in the fresh ginger, turmeric (unless using Agni Churna), Himalayan salt (to taste), and freshly squeezed lemon or lime juice.  If you are using the sesame seed blend option (see below), this can be added at this time as well.    
7. Than add in the cooked quinoa and blend all of the ingredients together evenly.
8. Once served in bowls, sprinkle with the chopped cilantro and a small amount of shredded coconut.  If any additional ghee, salt or pepper is needed, it can also be added at this time.
9. Eat, enjoy, and nourish!  
Optional Sesame Seed Blend Instructions
1. If using the whole sesame seeds, grind them in a spice grinder with a pinch of cumin seed and a pinch of black pepper, until they make a paste like texture.  If this is not available, replace the whole sesame seeds with equal amounts of tahini and mix in a pinch of black pepper and cumin powder. 
2. Heat the small frying pan over medium heat and add in 1 tsp of ghee or sesame oil.
3. Once heated, add in the ground up sesame seeds (or tahini) blend.  Heat this mix over medium heat, stirring continuously, until the seed paste turns a slight golden brown color.    
4. Add the toasted sesame paste to the kitchari dish at the proper time (see #6 above).
5. This option is best for Vata, as it can be too heating for Pitta and too heavy for Kapha types.
Discover our Digestion-Enhancing product line!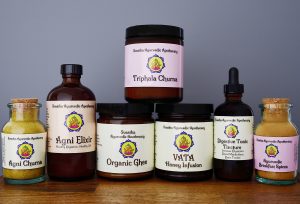 Click here to see our full apothecary menu.