Summer has arrived and with the heat already in the high 90's here in Boulder, I thought trying out a healthy, no-bake recipe is exactly what is needed!  But as with all of my recipes, I further thought that creating an Ayurvedic version of the energy ball could be a great experiment.  What I discovered was a simple, nourishing and irresistible recipe filled with Ojas-increasing ingredients (coconut, almonds, ghee, etc), digestive spices to balance out the heavy, cold and raw qualities of this recipe, and an added bonus of Ashwagandha Root, one of Ayurveda's most well know energy-enhancing, rejuvenative herbs.
I love this recipe for multiple reasons.  First, these Ayurvedic energy balls provide me with a delicious sweet fix that is made from 100% whole foods (meaning unrefined and unprocessed), leaving me satiated and guilt-free.  Second, they not only taste great, but provide me with tons of healing nutrients including plant-based protein, omega-3s, essential vitamins and minerals and powerful antioxidants.  The spices have numerous healing properties including increasing digestion, reducing inflammation and promoting lightness; while the Ashwagandha Root is added to boost energy and immunity, increase strength, reduce stress and rejuvenate the body.    
Yield: 18 medium size balls

Gluten-free

Vegetarian (can be made vegan)
Materials
Blender or food processor

Large mixing bowl and spoon

Small bowl (for dipping the coconut)

Measuring utensils

Ingredients
3/4 c almonds*

1/4 c pumpkin seeds*

1/4 c sunflower seeds*

1/4 c honey (use maple syrup for Pitta)

2 Tbsp almond butter or tahini
2 Tbsp Rasayana Ghrita or plain ghee (substitute with coconut oil)

2 to 3 Tbsp shredded coconut, plus 1/2 cup extra for covering

2 Tbsp cacao powder, (not recommended for Vata imbalances)

1 tsp cinnamon powder**

1/4 tsp cardamom powder**

1 tsp ginger powder**

1/2 tsp turmeric powder**

2 Tbsp Ashwagandha Root powder 

1/8 teaspoon salt (sea salt or pink Himalayan)
*All nuts and seeds can be soaked overnight and then dehydrated for 12-24 hours if desired
**All spices can be replaced with 2 tsp of the Ayurvedic Breakfast Spices.
Click here for a printable copy of our Ojas Energy Ball recipe!
Directions
1. Grind up the almonds, pumpkin seeds and sunflower seeds in the blender or food processor until they become a fine powder.  Then add them to the mixing bowl.
2. Add in the cacao powder, coconut, cinnamon, turmeric, ginger, cardamom, Ashwagandha and salt.  Stir until all of the ingredients are evenly mixed. 
3. Add in the honey, almond butter and Rasayana Ghrita or plain ghee.  Mix everything together using clean hands.  I highly suggest to get them wet first to avoid the mixture sticking to your hands. 
4. Once everything is evenly mixed, rinse off your hands.
5. Place the remaining coconut into a small bowl to get ready for dipping the energy balls in after they are created.
6. Wet your hands to get them ready for rolling up the balls.  Do not dry them, as the water helps to avoid everything sticking to you.  In fact, I suggest to have a small bowl of water nearby to dip your hands in between ball rolling.
7. Take a small amount of the batter and begin to roll it in the palms of your hands.  If you are experiencing a lot of stickiness, you probably need to wet your hands more.
8. Once you have a pretty little ball, place it in the bowl of coconut and roll it around until it is fully coated.  Then place the finished energy ball on a plate or in a container that is large enough for about 18 balls.
9. Repeat numbers 7 and 8 until all of the batter is used up. 
10. Once you are done, place the balls in the freezer for 1-2 hours to get them nice and solid before serving. 
11. For storage you can keep them in the freezer or refrigerator, depending on the consistency you prefer.  If you keep them in the freezer however, make sure to take the balls out a few minutes before serving to thaw a bit.
12. Enjoy for a pick-me-up snack or for a healthy dessert.  Although these treats are made with healthy ingredients, they should still be eaten in moderation (1-2 balls at a time).                                       
Click here for a printable copy of our Ojas Energy Ball recipe!
Discover our Digestion-Enhancing product line!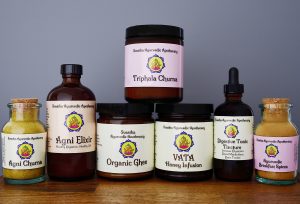 Click here to see our full apothecary menu.