Ojas is the subtle essence of the seven vital tissues of the body.  It is said to correlate with one's immunity, energy and vitality.  When an individual has strong, healthy ojas in their system, they are able to fight against aging, decay and disease. They have sustainable energy, strong immunity, a healthy glow and a robust libido.  If you find yourself lacking in any of these categories, you may have depleted or imbalanced ojas in your system.
Read more on "How to Increase Ojas".
This delicious, almond based drink is one way to increase healthy ojas in the body, restoring one's energy and vigor.  It is great to drink first thing in the morning for breakfast to enhance stamina and vitality for the day ahead.  This drink is perfect in the rejuvenating phase after a cleanse, but can be taken 2-3 times a week otherwise.
Click here for a printable pdf copy of our Ojas Drink Recipe!
Materials
Ingredients
10 raw almonds
2 cups pure water
2-3 dates (please remove pits)
1 Tbsp organic rose petals (dried or fresh)
1 tsp Rasayana Ghrita or Organic Ghee
Pinch of saffron
1/8 tsp ground cardamom
1/8 tsp of dry ginger
1 Tbsp honey
**Add a tsp of cacao power or nibs for an extra boost in the mornings!
 Directions
1. Soak almonds in 1 cup of water overnight.
2. Soak dates in 1 cup of water either overnight or for several hours.
3. In the morning, drain off the almond water and rub the skins off the almonds.
4. In a blender, add the dates AND their soaking water with the drained and peeled almonds.
5. Add rose petals, ghee, honey, saffron, cardamom and dry ginger.
6. Blend until smooth.
7. Drink 2-3 times a week as part of a rejuvenation therapy.
Optional Doshic Variations
Vata:
This recipe is great as is for Vata types and Vata imbalances.  Please avoid the optional cacao nibs.  Otherwise no changes needed!
Pitta:
Overall this recipe is balancing for Pitta types.  If needed, one can replace the honey (which is heating) with maple syrup and the dry ginger for equal parts of grated fresh ginger.
Kapha:
This recipe is generally increasing for Kapha and therefore should be avoided during times of Kapha imbalances.  If Kapha is in balance one can modify to make it a bit more Kapha-friendly by incorporating the following changes.  The dates can either be omitted completely or reduced to one single date.  The ghee can also be omitted completely or the amount can be reduced to 1/2 tsp.  The amount of ginger powder should be doubled and 1 tsp of cinnamon powder can be added to lighten the recipe and increase the digestion.  To make it extra energizing, add in the optional cacao nibs.
Click here for a printable pdf copy of our Ojas Drink Recipe!
NOTE: Although this drink is highly recommended for certain people, it can also be highly contraindicated for others.  If you have a high level of toxins (ama) and/or Kapha in the body, this drink is not for you.  Some clear indications of this are a coated tongue, poor circulation, dull mind, dull appetite and a persistent feeling of heaviness.
Discover our Digestion-Enhancing product line!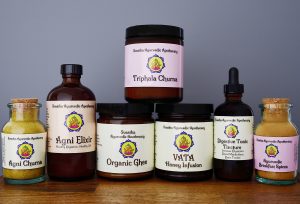 Click here to see our full apothecary menu.