Although I love my oats, groats, and porridges in the morning, these meals can be a bit too heavy for me during the lightness of the spring and summer seasons.  I really adore this recipe as it is packed with strengthening protein, yet it doesn't create the heaviness that can sometimes accompany high protein meals.  In fact, eating this breakfast scramble leaves me feeling light and energized while sustaining my appetite for quite a bit.  Whether your goal is weight loss or just to eat a bit healthier, this breakfast scramble can be a great addition to your morning routine!
From an Ayurvedic perspective, this scramble is balanced enough for all three dosha types (Vata, Pitta, Kapha), meaning it can be enjoyed by all!  This colorful recipe includes a wide array of seasonal vegetables which can be switched up as needed for your personal preference, doshic type, and current season.  It also contains quinoa and egg whites, both of which are amazing sources of lean protein which is needed for sustaining your appetite and energy throughout the morning.  Adding in some ghee and Ayurvedic spices is not only tasty but will aid in proper digestion and absorption of this healthy meal.  These simple but nutrient-dense ingredients will provide you with a wide range of vitamins, minerals, and colorful antioxidants.  It is naturally gluten-free and can be made grain-free by increasing the number of veggies and egg whites and omitting the quinoa. 
Springtime Breakfast Scramble Recipe
Click here for a printable copy of this recipe.
Serves: 

2 (double recipe if needed)

Prep Time:

15 minutes

Cook Time: 30 minutes 

Gluten-Free
Materials
Cutting board and knife

Sauté or frying pan

Small to medium saucepan
Ingredients
2 cups water

1 cup quinoa

1 teaspoon turmeric, divided 

1/2 teaspoons salt, divided

6 teaspoons ghee, divided

1/2 teaspoon cumin seed

1/4 teaspoon brown mustard seed

1/8 teaspoon freshly ground black pepper

1 zucchini, chopped

1 yellow squash, chopped

1/2 red pepper, chopped

6 to 8 asparagus spears, chopped

2 cups chopped kale, loosely packed

2 whole eggs

6 egg whites
Click here for a printable copy of this recipe.
Directions
Cooking the quinoa:
1. Bring 1 cup of water to a boil in a small saucepan.
2. Once boiling, turn the heat to low and add the quinoa, 1/2 teaspoon of turmeric, 1/4 tsp of salt, and 2 teaspoons of ghee.
3. Cover the pot, leaving a slight crack to avoid overflow.
4. Cook on low, for 15 minutes or until the quinoa reaches the desired softness.
5. Once the quinoa is finished, cover and set aside until the remainder of the sauté is complete.
Preparing the scramble:
1. Place a large sauté pan on medium heat and add 2 teaspoons of ghee. Once hot, add in the cumin seeds, brown mustard seeds, and freshly ground black pepper.  Sauté these spices for 2 minutes, stirring frequently.  Add in 1/2 teaspoon of turmeric and sauté for an additional 30 seconds.
2. Add in the chopped zucchini, yellow squash, red pepper, asparagus, and kale.  Stir well making sure to coat all of the veggies evenly with the ghee and spices.
3. Sauté over medium heat stirring frequently for about 5 minutes uncovered.
4. Cover the sauté pan and cook for an additional 2 minutes or until the veggies are cooked to your preference.  If you prefer a more steamed type of cooking, add in 1 to 2 tablespoons of water before covering (recommended for Vata types).
5. Once the veggies are cooked, place them aside in a bowl.
6. Place the empty sauté pan back onto the burner over medium heat and add 2 teaspoons of ghee.
7. Whisk 2 whole eggs and 6 egg whites in a separate bowl for 1 to 2 minutes and then pour the mixture into the hot pan. 
8. Cook over medium heat, whisking with a fork frequently for about 2 minutes or until the eggs are fully cooked.  They should be not too dry, but not runny.
9. Turn off the heat but keep the pan on the hot burner.  Add in the sautéed veggies and the cooked quinoa and blend everything together evenly.
10. Serve in individual bowls.  Add in any extra salt, pepper, and ghee as desired. 
11. Eat, share, nourish, and enjoy! 
Now available: "Ayurvedic Herbal Medicine for Beginners" filled with over 100 Ayurvedic home remedies!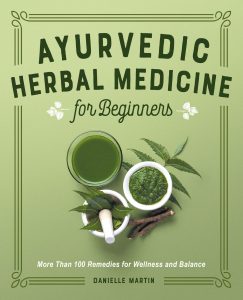 Discover more healing recipes with my 30-Minute Ayurvedic Cookbook!