This light and lovely dish is a summertime must! Quinoa is a delicate whole grain that is quick and easy to prepare, yet one of the highest in nutritional value. This ancient grain is one of the only complete protein plant sources and also is rich in such vital nutrients as manganese, phosphorus, copper, magnesium, fiber, folate and zinc. Eaten with a rainbow of fresh summertime veggies, you will gladly enjoy the anti-aging, anti-cancerous, anti-inflammatory benefits this delicious dish offers.
Here is a basic recipe to follow. Get adventurous and play around with different veggies, oils and spices to best fit your desires. If you are an omnivore, try adding chicken, scrambled eggs, beef or shrimp to increase the protein content even further. Of course adding almonds, walnuts, sunflower seeds or pumpkin seeds can be quite a treat as well!
Serving size: 4 servings
Vegetarian and Vegan
Gluten Free
Prep time: 30 minutes
Cook time: 45 minutes
Ingredients
2 cups white quinoa, uncooked
2-4 Tbsp coconut oil or ghee 
1 carrot
1 zucchini
5 asparagus sticks
3-5 crimini mushrooms
½ yellow, red or orange bell pepper
2 green onions
½ cup of raw, unsalted cashew pieces
½ of a lime
5 sprigs of cilantro
1 inch cube fresh ginger, finely grated
¼ tsp turmeric (powder or freshly grated)
¼ tsp whole cumin seeds
¼ tsp brown mustard seeds (omit for Pitta types)
Black pepper, freshly ground to taste (use sparingly for Pitta types)
Salt to taste
Braggs or tamari soy sauce to taste (use sparingly for Pitta types)
Directions
In a medium sauce pan, boil 4 cups of water. Once boiling, add the 2 cups of dry quinoa, cover and reduce the heat to low.   Cook for 30-45 minutes stirring occasionally. Keep covered and remove from heat once the water is all soaked up and the quinoa is plump, moist and fluffy.  Add 1-2 Tbsp of coconut oil and coat evenly.
While the quinoa is cooking you can begin to prepare the veggies. First chop up the carrot, zucchini, asparagus, mushrooms and bell pepper. Place 1-2 Tbsp of coconut oil in a large sauté pan over medium heat. Add the cumin seeds, mustard seeds and cashew pieces and stir frequently until the seeds begin to pop (about 1-2 minutes). Add the chopped veggies and stir around until they are all evenly coated with oil. Reduce the heat slightly to low and sauté (uncovered) for about 5-7 minutes, stirring occasionally. Once you reach your desired state of sauté, cover and remove from heat.
Once the quinoa and the veggies are fully prepared, add the cooked quinoa to the sautéed veggies and stir until everything is mixed evenly.
Chop up the green onion and the cilantro, and sprinkle along with the grated ginger and turmeric onto the stir fry. Squeeze the lime juice evenly onto the dish. Add the salt, freshly ground black pepper and soy sauce to taste.
Once all the remaining ingredients have been added, evenly mix up the dish one last time, serve and enjoy!!
Optional Additions:
Any nut or seed such as almonds, walnuts, pumpkin seed or sunflower seeds
Avocado, cubed
Chicken breast, cubed
Scrambled eggs
Shrimp
Beef sirloin, cubed
Discover our Digestion-Enhancing product line!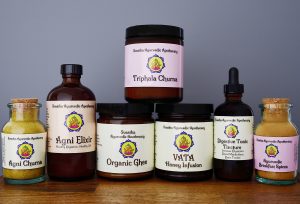 Click here to see our full apothecary menu.