Triphala is a traditional Ayurvedic formula made from the three Indian fruits known as Amalaki, Bibhitaki, and Haritaki.  Although it is often used as an internal remedy for a vast array of issues (including skin conditions), this formula can also be a very effective, luxurious way to treat your skin externally as well.  By blending the triphala with mother nature's nectar (aka honey), you will create a quick, easy facial mask that will minimize oily skin (without drying it out); alleviate acne and breakouts; soothe irritated, inflamed skin; and overall tighten and illuminate your complexion!
This do-it-yourself face mask may only contain a few ingredients, but these simple, whole-food ingredients will truly feed, nourish, and revitalize your skin.  Triphala is one of the best sources of vitamin C and loaded with antioxidants, making it a great remedy for soothing irritated skin, reducing signs of aging, and promoting cellular rejuvenation.  It is very sour, bitter, and astringent by nature, making it a great option for those that are experiencing oily skin, acne, or breakouts.  Honey is a powerful natural skin remedy as well, due to its antibacterial, astringent, soothing, clearing, and antioxidant-rich properties. 
Health Benefits Of The Triphala Honey Mask
Clears the complexion

Prevents acne and breakouts

Soothes irritated, inflamed skin

Promotes cellular rejuvenation

Reduces signs of aging

Unclogs pores

Tightens the skin and reduces the size of pores

Creates a soft, glowy, more youthful complexion
As you can see, the Triphala Honey Mask will aid in easing your skin issues and beautifying your complexion.  However, just like anything truly great and effective, this may not happen overnight.  Although you should notice some positive changes straightaway, this mask should be applied regularly if you want to see real results.  In general, it is recommended to apply this mask 2 to 3 times each week for at least a month, and possibly longer if you are experiencing severe, chronic skin issues.  The more severe the condition, the more involved the treatment must be.  For even greater results, take Triphala Churna internally (1/2 to 1 teaspoon daily) to treat the skin from the inside out!
Triphala Honey Mask 
Yield: about 

3 facial masks 

Doshic Effect: Suitable for all skin-types, but best for Pitta and Kapha; may be too drying for Vata (aka dry) skin-types, in which our original Triphala Face Mask remedy can be used instead.
Ingredients
1 tablespoon Triphala Churna

2 tablespoons honey 
Directions
1. Place the Triphala and the honey in a small bowl. 

2. Stir them together until the powder has completely blended with the honey and formed a thick paste.

3. Wash and dry your face thoroughly.

4. Massage a medium layer of the triphala-honey paste onto the face and neck.  Make sure to cover all the areas except for around the eyes.  Please avoid any contact with the eyes.

5. Leave the mask on for 20 to 30 minutes.  I really enjoy applying this mask directly before a bath to get the full "spa" experience!

6. Gently wash off the mask using warm (not hot!) water.  A soft washcloth can be used if needed, however, the herbs may stain your cloth, especially if the fabric is white.  Alternatively, this mask can be rinsed off in a warm shower for less mess.

7. Pat the skin dry and take in the soft, soothing sensation and luminous glow this mask has created.  I often follow this treatment with a small dab of our Anti-Aging Skinfood to complete the experience and alleviate any dryness.   
Additional Tips
Apply this mask 2 to 3 times a week for best results.

Use only organic triphala powder and organic honey.

While applying your weekly mask treatments, take 1/2 to 1 teaspoon of Triphala Churna each day internally (read the health benefits of Triphala here).

If this mask is slightly drying for you, apply the Anti-Aging Skinfood after the treatment. 

If you are experiencing breakouts or inflamed skin on other areas of the body, this mask can be applied anywhere to ease your issues.  It is not recommended for dry, flaky skin conditions however, as the honey and herbs may be too drying.
Continue Reading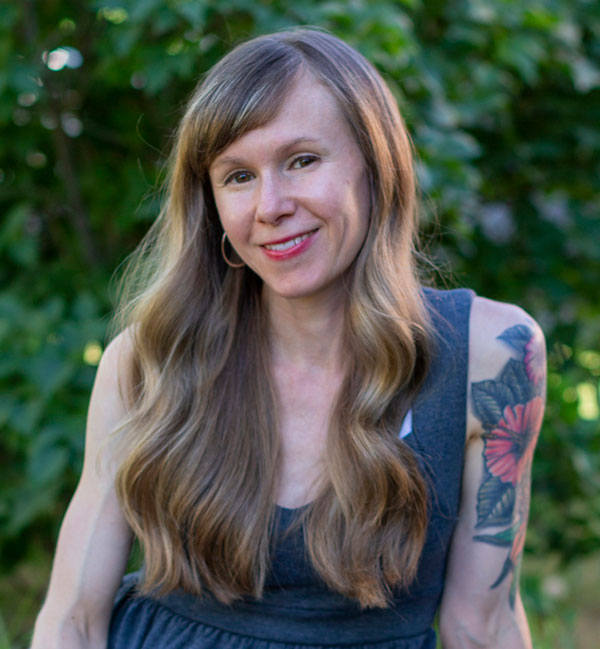 Danielle is a certified Advanced Ayurvedic Practitioner and the founder of Svastha Ayurveda, a humble Ayurvedic clinic and herbal apothecary.  Danielle has worked with clients worldwide to guide, educate, and empower them back into balance and health through the ancient wisdom of Ayurveda.  She graduated from the Ayurvedic Institute (2011) and Alandi Ayurveda Gurukula (2013) and continues her studies to this day.  Danielle currently lives in Longmont, Colorado with her beautiful family of five.  When she is not working, she enjoys a busy, but simple life cooking, reading, writing, going for walks, practicing Yoga, meditating, breathing, and spending time with her family. Read more about Danielle