What do you get when you combine three of my favorite foods together?  You get this amazingly delicious (and healthy) avocado pudding recipe.  This energizing treat is filled with healthy oils, vitamins, minerals, antioxidants and electrolytes and is perfect for a guilt-free snack or dessert…  And believe me it will definitely satisfy your sweet tooth!
The main ingredient is avocado which provides us with the essential Vitamins K, C, B and E along with a good amount of folate and potassium.  The coconut water is well known for its rejuvenating electrolyte properties.  Finally you have my favorite addiction, cacao, which is a powerhouse of anti-aging antioxidants, flavonoids and vital minerals.  With these three superfoods together, you get an incredibly energizing, mind-boosting, Ojas-enhancing power-snack.
Materials
Hand blender (best option, but can be replaced with a regular blender or food processor)

Bowl with cover for refrigerating
Ingredients
2 medium, ripe avocados

3/4 cup of raw coconut water (best option is directly from a young coconut; second best is a bottled coconut water that is labeled "raw" such as Harmless Harvest brand)  

2 Tbsp raw cacao powder

2 Tbsp maple syrup

Handful of shredded coconut for garnish
Directions
1. Scoop the "meat" out of the two avocados and place in a bowl.  If you are using a regular blender or food processor, you can add this directly into the blender.     
2. Add the raw cacao powder and coconut water.  If you are lucky enough to be using the water from a fresh young coconut, feel free to add the meat too! 
3. Take the hand blender (or other blending utensil) and blend on medium speed until the mixture is smooth and there are no chunks.  Make sure the cacao is evenly mixed.   
4. Place in cover bowl and store it in the refrigerator.   Let chill for at least an hour (optional but recommended).
5. Before serving, sprinkle with so shredded coconut.  Indulge, energize and enjoy! 
6. This is a delicate dessert and will only last 1-2 days.  Luckily it is so delicious, this shouldn't be an issue.
Discover our Digestion-Enhancing product line!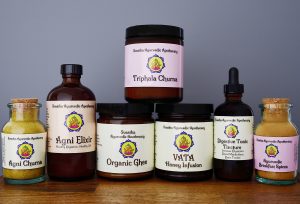 Click here to see our full apothecary menu.