By utilizing the Ayurvedic dietary principles, pretty much any recipe that is made from real, whole foods can be made Ayurvedic, even chocolate chip cookies (hooray!).  In this recipe, I have taken the traditional chocolate chip cookie, made it with 100% whole wheat flour, added many digestion-enhancing spices, replaced the sugar for a small amount of maple syrup, used dark chocolate chips instead of milk chocolate, and replaced the butter with ghee.  The result is a guilt-free, delicious, and kid-friendly treat.  I was able to test these out on my family (back home in the Mid-West) whom might I mention, used to be afraid of anything that was labeled natural or organic, and indeed they were devoured before the night was done.  Success!!
Makes: 24 cookies
Prep Time: 15 minutes 
Cook time: 10 to 14 minutes 
Materials
Big bowl and medium bowl for mixing

Mixing and measuring spoons

Measuring cups

Flour sifter (recommended but not required)

Electrical mixer or hand blender

Cookie sheet 
Click here for a printable version of this recipe.
Ingredients
2 cups of 100% whole wheat flour

1/2 teaspoon baking soda

1/4 teaspoon cinnamon powder*

1/8 teaspoon cardamon powder*

1/4 teaspoon ginger powder*

1/8 teaspoon turmeric powder*

1/2 teaspoon salt

2 eggs

1/2 cup maple syrup

1 tablespoon molasses

1 teaspoon vanilla extract

1 cup dark chocolate chips (optional, omit for Vata imbalance)
*These spices can be replaced with 3/4 tsp of the Ayurvedic Breakfast Spices.
Click here for a printable version of this recipe.
Instructions
1. Preheat the oven to 325 degrees.
2. In a large mixing bowl, combine the flour, baking soda, cinnamon, cardamon, ginger, turmeric, and salt.
3. In a medium mixing bowl, combine the eggs, maple syrup, molasses, melted ghee, and vanilla extract.  Blend well until this wet mixture is thoroughly blended. 
4. Add the wet ingredients to the dry ingredients in the large mixing bowl.  Blend on a medium setting until there is no sign of dry ingredients and everything looks evenly blended. 
5. Add the chocolate chips (if used) and manually mix with a large spoon. 
Side Note: I decided to split the dough in half and make half with the chips, and half without.  The result?  Very versatile!!  My sensitive nervous system is  not a fan of the caffeine in chocolate at night, so the plain cookies are a great option for a nighttime treat.  I also found the chocolate chip cookies were more of a dessert cookie, where as the plain ginger spice cookies were better as a tea companion (especially caffeine-free chai!).  Go ahead and play around!!
6. Once the dough and chips are evenly mixed, place parchment paper on two cookie sheets.  Using a teaspoon, scoop the dough up and begin to roll in your hands until you form a nice cookie dough ball.  Place on the cookie sheet, flatten slightly with your fingers (see pic above) and repeat.  Remember to use the measuring spoon to ensure equal size cookies and even cooking.   
7. Once you have 12 cookies on each sheet ( I did one dozen chocolate chip, one dozen plain ginger spice), place these in the preheated oven and set the timer for 10 minutes. 
8. Check on the cookies at 10 minutes.  Once done, the cookies will look golden brown and slightly dry.  If needed, continue to cook, checking every minute until they are done. 
9. Take the cookies out of the oven and using a spatula, place them on a wire rack to cool. 
10. Enjoy these healthy treats as a decadent snack or a guilt-free dessert.  They go amazingly with a cup of chai or golden milk.
Click here for a printable version of this recipe.
Discover our Digestion-Enhancing product line!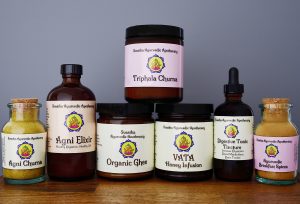 Click here to see our full apothecary menu.