Kitchari is a traditional Ayurvedic dish that is nourishing, cleansing and quite versatile.  I am calling this particular Kitchari recipe my "Christmas Kitchari" not only because it is a healthy meal option for the winter months, but also because this warming dish provides a beautiful array of red and green colors, perfect for the holiday season.  During this time of potlucks, parties and Christmas cookies, this recipe could be a much needed addition to your regular meal routine to allow your digestion to rest while flushing out some accumulated toxins.  Of course this dish can be made any time of year; however, it is most recommended during the fall and winter months to keep seasonal with the vegetable selection.
Health Benefits of Christmas Kitchari
Cleanses the blood and GI tract
Gentle on the digestion, giving it a rest during times of toxic build-up or low digestive fire
Filled with iron and other blood building nutrients
Loaded with fiber, vitamins and minerals (especially Vitamins A,B, C, K)
Plant based, "complete" protein
Warming recipe, perfect for the fall and winter months
Grounding recipe to reduce Vata dosha
Suitable for all body types; however, Kapha types should replace the basmati rice with quinoa or millet and Pitta types should refrain from using cayenne pepper, cinnamon and only a small amount of black pepper
Vegan, Vegetarian
Gluten-Free
Serving: 3-4
Cooking Time: 1 hour
Materials
Medium sauce pan
Cutting board and knife
Ginger or fine cheese grater
Ingredients
6 cups of water (substitute veggie or chicken stock more flavor!)

1 cup of whole mung beans soaked overnight*

1 cup of basmati rice (substitute with quinoa, brown rice or millet)

1 medium beet, peeled and chopped into tiny cubes

1 small rutabaga, peeled and chopped into tiny cubes

1 medium carrot, chopped into thin slices

5 large kale leafs

1 Tbsp of ghee, sesame oil, sunflower oil or coconut oil

1" cube of fresh ginger, peeled and finely grated

1-2 tsp Agni Churna spice blend

1 cinnamon stick

Pinch of cayenne pepper (optional, not recommended for Pitta)

Fresh lemon juice from

 

1/2 of a lemon

3 green onions, chopped

10 sprigs of cilantro, chopped

Salt and pepper to taste (Himalayan salt is best)

*Soak 1 cup of mung beans in 4 cups of water overnight.  Discard the water upon usage. Whole mung beans can be replaced with split mung beans or red lentils.
Directions
1. Add ghee or oil to a medium sauce pan and place on the stove over medium heat. Once warm, add the Agni Churna spices and cayenne pepper (optional).  Stir these spices around over low-medium heat for 1-3 minutes stirring constantly to avoid burning.
2. Add 6 cups of water to the same pan, increase the heat to high and cover until it comes to a boil. While you are waiting for the water to boil, chop up the beet, rutabaga and carrot.
3. Once boiling, reduce the heat to medium and add the cinnamon stick and the mung beans along with the chopped beet, rutabaga and carrot. Cover only half way to prevent an overflow and cook for 30 minutes.  Stir every 10 minutes.
4. After 30 minutes, add the basmati rice (or other grain of choice) and cook for an additional 20 minutes. Stir every 10 minutes. 
NOTE: If you are using brown rice, this will require much more time to cook. In this instance it is best to add the brown rice at the same time as the mung beans.  You also may have to add a bit more water, so please monitor as needed. 
5. While this is cooking begin to chop up the kale, green onion, cilantro and grate the ginger.
6. After the 20 minutes, add the chopped kale and reduce the heat to low. Cook partially covered for an additional 10 minutes stirring every 5 minutes.
7. After the 10 minutes, remove from heat. Add the chopped cilantro and green onion, grated ginger, fresh squeezed lemon juice and the salt and pepper.   Stir thoroughly.
8. Serve and enjoy this beautiful red and green dish in your favorite bowl. Share with others, as you warm up on a cool fall or winter's day!
Optional Doshic Variations
Vata:
For Vata types, the best options for oil would be ghee or sesame oil.  Make sure to cook all of the veggies until they are very soft and the dish as a whole is quite mushy.  Meat or bone broth is always a great option for nourishing Vata (for non-vegetarians).  All the grain options mentioned are suitable for Vata, although the basmati rice tends to be the easiest for Vata types to digest.

Pitta:
For Pitta constitutions, omit the cayenne pepper, cinnamon stick, and replace the lemon with lime.  Extra cilantro can be added if desired.  The best oil options would be ghee, sunflower oil or coconut oil. The best grain options are basmati rice or white quinoa. 
Kapha:
For Kapha constitutions, keep the salt and oil to a minimum.  The best oil options are ghee or sunflower oil.  The best grain options for Kapha will be quinoa or millet, although grains in general should be used in smaller quantities while increasing the amount of veggies.  Extra spices and lemon can be added to increase the digestive fire and metabolism.
Discover our Digestion-Enhancing product line!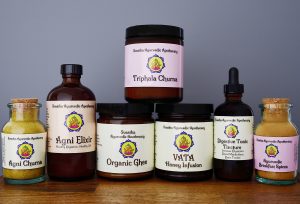 Click here to see our full apothecary menu.