Everyone needs a bit of indulgence in their diet once and a while.  The trick is to find healthy delicious foods to indulge on when this time comes.  That is exactly how this recipe came about!  This energizing Golden Milkshake is an Ayurvedic-friendly recipe similar to a smoothie, without the incompatible food combining no-no's.  It utilizes many Ojas-increasing whole foods, and is filled with healthy fats (including omega-3s), tons of plant protein, antioxidants, electrolytes, and of course digestive spices. 
Our Turmeric Milkshake can be enjoyed as a snack, a dessert, a post-workout treat (tons of healthy protein!), or even an energizing breakfast.  It is great for times of rejuvenation, post-cleansing, low Ojas, high Vata, pregnancy, postpartum, breast feeding, or just about anytime you need a sweet pick-me-up!  Although healthy by nature, too much of a good thing can eventually do harm.  Therefore it is recommended to take in one serving no more than 3 times each week to avoid increasing Kapha, heaviness, and toxins in the system.
Read about the health benefits of turmeric here!
Serving: 2
Time: 10 minutes to make, 1-2 hours to cool (optional)
Gluten-Free, Vegetarian, Vegan
Materials 
High-Speed Blender (Vitamix or Blendtec works best!)
Ingredients
2 cups of filtered water

1 cup of raw coconut water (I prefer the Harmless Harvest brand)

2 Tbsp chia seeds

2 Tbsp hemp seeds

2 Tbsp raw, unsalted sunflower seeds

2 Tbsp raw, unsalted pumpkin seeds

1/2 of a large avocado or 1 small avocado

3-4 large medjool dates (remove pits)

1 tsp cinnamon powder 

1-2 inches of fresh ginger (can be replaced with 1/2-1 tsp dry ginger)

1/2-1 tsp turmeric powder

1/8 tsp cardamom powder

1/2 tsp vanilla extract
Optional extras:
Directions
1. Place all of the ingredients in a high speed blender.   
2. Blend on high for 2-3 minutes. 
3. Taste to see if the consistency is sufficient.  Blend more if needed.
4. Once the consistency is as desired, pour the shake into a ball jar and seal tightly.  Place this in the refrigerator or freezer for a minimum of 1-2 hours to create a cooler temperature.  *This step is optional, as in Ayurveda it is best to eat food warm to room temperature.    
5. Once the temperature is to your liking, serve, share and enjoy!
Discover our complete line of Digestion-Enhancing Products!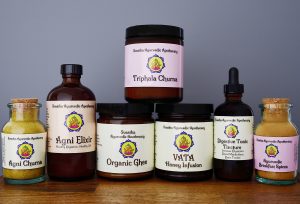 Click here to see our full apothecary menu.