The Kitchari cleanse is a very mild version of the traditional "Pancha Karma" cleanse and can be safely performed at home with minimal guidance. This particular cleanse is suitable for all body types as it can be modified to fit everybody's individual needs. This cleanse consists of taking in a mono-diet of the classical Ayurvedic dish, Kitchari, which will allow the digestive system to take a much-needed break, giving it new light and the ability to properly flush out toxins in the system.
The Kitchari cleanse can be performed solely as a mild mono-diet cleanse, or it can go a bit deeper by adding the appropriate herbal regimens and daily practices. This cleanse is typically done for 3-7 days, depending on the individual's schedule and the amount of cleansing needed. Ideally, this is a planned out regimen that includes multiple pre-cleanse and post-cleanse regimens that will allow the system to ease into the cleanse and eventually ease out of it.  If you are not careful, a cleanse can do more harm than good, further destroying the digestive system and depleting energy levels. 
*Please note that a cleanse of any kind should be avoided during menstruation.
Find all of your Kitchari necessities here!
Benefits of a Proper Kitchari Cleanse
Increases the digestive capacity
Removes toxins from the system
Removes heaviness and congestion from the body
Removes heaviness and congestion from the mind
Enhances the "Satvic" (balanced) state of an individual
Enhances energy and feelings of wellness (prior to the cleanse; during the cleanse one may experience low energy due to the flushing of toxins and mild diet)
Increases one's confidence and motivation levels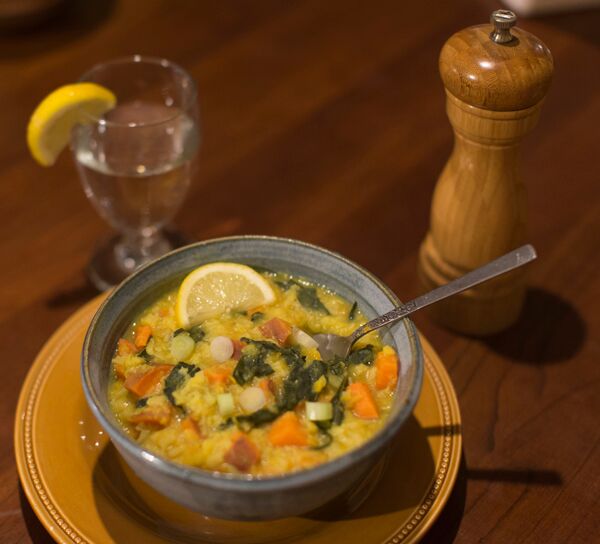 Pre-Cleanse Procedures
The pre-cleanse is typically 3-7 days in length and performed directly before the actual Kitchari cleanse. Here is a general list of some of the important aspects of the pre-cleanse.

Kitchari Cleanse Procedures
This section is to roughly guide you through the actual mono-diet cleanse itself. The Kitchari Cleanse is generally performed for 3-10 days depending on the individual needs and the desired results. During this cleanse, you are free to eat as much Kitchari as you feel you need. However, it is normal to feel a low appetite especially after a couple of days into the cleanse. Here are some important recommendations when performing a Kitchari Cleanse.
Set specific dates for when and how long the cleanse will be.  This is necessary so that you make sure not to perform the cleanse during any big events, times of travel, stressful situations, excessive work, or other intense situations. If there is too much work, stress, and external stimulation, this can cause you more harm than good during this sensitive time of cleansing.
Eat a mono-diet of a cleansing Kitchari recipe.

  

This means that you should not take in any other foods at this time. The Kitchari can be made out of mung beans (split or whole) or red lentils, basmati rice, and easy to digest, well-cooked veggies such as carrots and greens.  ***Please note that basmati rice is not recommended for everybody and especially not Kapha types. In these cases, one should replace the basmati rice with quinoa, millet, or brown rice as appropriate. The Kitchari should consist of these main ingredients along with plenty of spices, ghee, cilantro, and lemon/lime juice to help increase the digestion and encourage the removal of toxins. Click here for our Cleansing Kitchari Recipe. 
Remove any caffeine, tobacco, alcohol, or other substances from the daily regimen.  This is a very important and mandatory step during the Kitchari cleanse. Your body becomes extra sensitive during cleansing and continuing any harmful substance will cause more damage than health during the cleanse. If you feel you cannot give up any of these habits during this time, it is best to not perform the cleanse until you feel you can.
Drink a detoxifying herbal tea throughout this time.

 

The addition of a detoxifying herbal tea will help to flush out the toxins during your cleanse. There are many different herbal options out there including my Detox Tea, Om Shanti Tea and Healthy Digestion Tea. 
Continue the Abhyanga Oil Massage and the Ginger/Baking Soda Bath each day during the cleanse.  Oiling the body and inducing sweat are both well-known therapies to remove deep-seated toxins. Without practices such as these, the toxin removal will remain on a superficial level.
Continue to take in 1-2 Tbsp of Tikta Ghrita (Bitter Ghee) each morning of the cleanse. This herb-infused ghee contains the most powerfully cleansing herbs available in Ayurvedic medicine. This herbal medicine will enhance the cleansing process ten fold to ensure the removal of deep-seated, stagnant toxins throughout the system. Purchase our Tikta Ghrita here. 
Continue to take Triphala Churna each night during the cleanse. This herbal formula is a classic recipe for cleansing the system and flushing out toxins. Taking this prior to and during the cleanse will enhance its effectiveness.  Purchase Triphala Churna here.  
Be sure to make quiet time for yourself during the cleanse. This practice may be different for each individual dependent upon what personally resonates with you. I prefer to do a restorative yoga session each day followed by gentle breath work (pranayama) and meditation. Other people may prefer to journal, sit in silence, be out in nature, take a gentle walk (if the temperature is appropriate), do art therapy, music therapy, or whatever feels good to you. Just remember that a cleanse has to have some mental detoxification to be truly healing! Read my article on "How to Perform a Mental Detox" for more ideas here.
Post-Cleanse Procedures 
The way you come off a cleanse (any cleanse) is just as important as the cleanse itself. If you consume ice cream and pizza directly after the cleanse, the results may impair your health and digestion far worse than before performing the cleanse. In fact, you may become permanently allergic to a food if you eat it too soon after a cleanse. So, for your own sake, please remember these important factors while coming off of your cleanse.
Slowly ease yourself back onto a "normal" healthy diet.  After eating only Kitchari for 5-7 days, it is important to come back into your normal diet gracefully. For the first week, I recommend eating only well-cooked meals using lots of spices and ghee. Avoid raw food for this time, refined grains, refined sugar, and all processed foods. Here are some good recipe options for the first week after your cleanse:  Butternut Squash and Coconut Soup, Christmas Kitchari, Ojas Increasing Oatmeal, Quinoa Stir-Fry, and Sautéed Kale with Golden Tahini Sauce. After one week, you can begin to add more foods, but try your best to continue a healthy diet that is appropriate for your constitution and the season.
Begin to ease your way back into your normal routine.  Just as you must slowly introduce new foods, you also must slowly introduce new activities. This may include your exercise routine, Power Yoga classes, intense workloads, traveling, extreme hikes, and so forth. After a cleanse, energy is quite low and must be gracefully regained to become more vital. If this suggestion is not followed, you will be left dull, depleted, and susceptible to illness.
Slowly incorporate a healthy Rejuvenation Therapy.  After the cleanse, you are likely to feel sensitive and slightly depleted. To rebuild the body and mind in a healthy way, a proper Rejuvenation Therapy is needed. This includes taking rejuvenating foods, herbs, and lifestyle/behavioral practices. Read my article on Rejuvenation to find out specific details.
Drink the Rejuvenating Ojas Shake 2-3 times each week, post-cleanse, until strength is restored.  Click here for the recipe!

Conclusion
As you can see, a cleanse is not something to be taken lightly. You need to take time to properly plan a cleanse. It is also highly recommended to use your resources, and let a knowledgeable Ayurvedic Practitioner help guide you through each step. This will ensure the most powerful results and ward away the possibility of causing harm to your system. A proper cleanse will leave you feeling light, energized, and full of mental clarity.  On the other hand, an improper cleanse will leave you feeling depleted, lethargic, and dull-minded with continued symptoms of indigestion.
Try our Ayurvedic Detox Kit to complement your cleanse!
Find all of your Kitchari necessities here!
Click here to see our full apothecary menu.