One of the best spices for keeping cool in the hot seasons, or any time Pitta is running high, is the simple, but mighty fennel seed.  This easy-to-make tea infusion uses only 5 ingredients (including water), all of which are very accessible and affordable.  Despite its simplicity, it is very effective for reducing excessive heat, stimulating digestion, and soothing inflammation.  Did I mention it is quite delicious too?
With this cooling blend of spices and dates (known as khajoor in Sanskrit), this tea is great for women that are experiencing many common symptoms such as hot flashes, night sweats (drink this before bed), menstrual cramping (drink before and during your cycle), postpartum ailments, and scanty breastmilk.  However, this tea is all-inclusive and is beneficial for anybody that is dealing with inflammation, excessive heat, heated emotions (anger, hot-temper, impatience, criticism, frustration, etc), hyperacidity, gas or bloating, "sharp" appetite (known as Tikshna Agni), cranky hunger (aka "hangry"), or simply want to keep cool in the heat of summer.  I know in sunny, dry Colorado, cooling teas such as this are a summertime must!
Although this cooling infusion is perfect for calming Pitta, it is gentle enough for any dosha type and can be taken routinely without harshness.  In fact, if you are experiencing an ongoing or severe Pitta imbalance (or any heat-related healthcare issue), this tea will prove most effective with consistent daily use.  But do not worry, it is so yummy and easy to make, this task will come very easy!
Despite being a cooling tea, Ayurveda frowns upon drinking cold or iced beverages, as they can create constriction in the GI tract and put out the digestive fire (Agni).  Alternatively, warm or hot beverages dilate the channels, flush toxins, and stimulate digestion.  So as a word of warning before you dive in, this tea is best taken at a warm temperature and will still be equally cooling.  However, if you are in the dead of summer and you simply need a cold refreshment, you can cool this tea in the refrigerator and drink it chilled, although it may be best to let it sit out for 15 to 30 minutes as a happy compromise:)   
Sweet Fennel Infusion Recipe
Click here for a printable copy of this recipe.
Makes: 4 cups (1 quart)
Prep Time: 5 minutes
Steep Time: 30 minutes
*Kapha can enjoy in moderation during the summer months.

Indications 
Summertime or any hot season

Excessive heat

High Pitta

Digestive issues such as gas, bloating, and hyperacidity

Cranky hunger or "sharp" appetite

Hot flashes

Menstrual cramps

Postpartum healing

Scanty breastmilk production
Materials
Saucepan, medium to large in size

Measuring spoons and cup

Glass or stainless steel vessel for straining into (I use my glass 8-cup measuring cup, but you can also use another stainless steel saucepan or whatever is handy—ideally no plastic containers)

Cute mug to drink out of (optional but recommended!)
Ingredients

*By ordering directly through these links, you are helping to support Svastha Ayurveda – Thank you!!
Directions 
Click here for a printable copy of this recipe.
1. Heat water in a medium to large saucepan and bring to a boil. 

2. Reduce heat to a low simmer and add in fennel, coriander, cardamom, and Khajoor.

3. Steep here, covered but leaving a crack for evaporation. It is done when 4 to 5 cups of liquid remain, about 30 minutes.  Stir occasionally.  

4. Strain into a glass vessel.

5. This refreshing drink is taken warm or at room temperature for best results.  However, during the summer, it can be slightly chilled (but not too cold please!).      

6. Drink one to two cups daily to balance heat, reduce Pitta, and stimulate digestion.   

7. Refrigerate leftovers in an airtight glass jar for up to 7 days.
Click here for a printable copy of this recipe.
More Cooling Drink Recipes
Discover more healing recipes with my 30-Minute Ayurvedic Cookbook!*
Discover over 100 herbal remedies in my Ayurvedic Herbal Medicine for Beginners book!*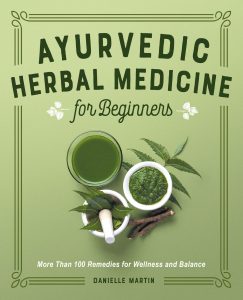 *By ordering directly through these links, you are helping to support Svastha Ayurveda – Thank you!!