One of the most essential bits of information taken during any Ayurvedic consultation is the precise details of an individual's bowel (aka pooping) habits.  Being of such vital importance, it is clear that one's elimination is directly related to their current state of health.  This typically un-talked-about topic is so important it often will be a major factor when determining the best diet, lifestyle, and herbal treatment.  Needless to say, how you are pooping can be a clear indicator of current imbalances and toxicity that may be manifesting in the system.
Since the topic of pooping is considered embarrassing and often termed as the unmentionable, issues with our bowels can often go overlooked or undiagnosed.  Luckily in the world of Ayurveda, there is no topic that is too embarrassing to mention, and instead, our bowel habits are talked about in great detail.  This is because it is not only about how many times one may be eliminating daily (although this is important too), we also need to examine the quality, quantity, and sensations involved in our bowel habits.  For example, one may be pooping daily, but only a small amount of hard stool is passed painfully and accompanied by gas and cramping.  Although they are having daily bowel movements, this is not considered healthy since there are multiple signs showing increased Vata in the colon.   
Pooping is classified under the term mala meaning impurity or waste product and is one of the three essential malas of the body.  Being an impurity, it is needed to be eliminated from our system properly in order for one to establish perfect health.  This fact is clearly mentioned in the classical sutra stating the Ayurvedic definition of perfect health (Svastha).
"Sama Dosha Sama Agnischa Sama Dhatu Mala Kriya
Prasanna Aatma Indriya Manaha Svastha Iti Abhidheeyate"
– Sushruta Sutra Sthana, Ch 15 Vs 41
This well-known sutra clearly states that in order to establish perfect health (Svastha) one must have balanced doshas (Vata, Pitta, Kapha), dhatu (7 vital tissues), Agni (digestion), mala (elimination of impurities), mind, and senses.  Knowing this we must strive to find balance in these areas and this includes our bowels!
Signs of Healthy Pooping
Unhealthy Pooping Habits and What It Means for Your Health
Click here for a printable chart, perfect for your bathroom!
Click here for a printable chart, perfect for your bathroom!
If you are showing signs of unhealthy pooping habits, it will be essential for your overall well-being to treat whatever issues are occurring.  Since the elimination is directly correlated to digestion, this will likely need to be addressed as well (through diet, herbs, etc).  Here are some quick ideas of how to treat the underlying elimination issue.  Please use the chart above to see which dosha is needing to be treated in order to discover some healthy ways to bring balance to your bowels.
NOTE: This is simply general information and may not pertain to every individual's needs.  For example, one may have diarrhea but instead of stemming from Pitta, it is being caused by anxiety.  This is termed Vata (the anxiety) pushing Pitta (the loose stools) in the colon and in this case, the Vata would need to be treated.  Therefore for more serious conditions or conditions with multiple doshic involvements, it is always best to seek out individualized treatment through an Ayurvedic consultation. 
General Treatment for Weak Digestion and Vata Imbalance in the Colon
General Treatment for Excessive Heat and Pitta Imbalance in the Colon
General Treatment for Congestion and Kapha Imbalance in the Colon
General Treatment for Toxins in the Colon
Try my hand-blended, organic Triphala Churna!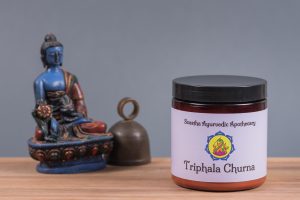 Try my raw, organic Vata Honey Infusion!
Now available: "Ayurvedic Herbal Medicine for Beginners" filled with over 100 Ayurvedic home remedies!